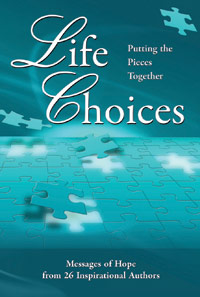 $24.95

This empowering collection of stories reminds us that we all have choices, and the choices we make are what determine the course of our lives. The authors of these stories are real people who have reached into the depths of their souls to share their inspiring journeys when navigating the difficult paths of their lives. These extraordinary people have persevered against the odds and made choices that enabled them to achieve successful lives. Through their experiences, we can find many important lessons to help us avoid wrong turns and blind alleys. Their stories show us that we can overcome our challenges and live more satisfying, passion filled lives.
Do you have a story to tell?
If you are an author or have a burning desire to tell your story, we are interested in working with you. Click here to contact us and learn how to submit your story.
Read more about the contributing authors and chapter excerpts by clicking on their names below:
---
Andrea Chestnut
As Mom's funeral came to a close, the sky seemed to be more gray than usual for a November day in Georgia. While I stood there smelling the fresh dirt, I could feel the gray as the wind pulled at my coat. Hearing the muffled tears and feeling numb, I stood and remembered when President Kennedy died and how controlled and dignified Jacqueline Kennedy was as the horse drawn carriage carried her husband to his final resting place. I decided that is how one handles oneself at these times, and so I did. I closed the door to my pain and sadness and took on the roll of being dignified, or so I thought.
Chapter Excerpt: Changing the Family DNA
Andrea Chestnut lives in Las Vegas, Nevada, a world beyond where she began. An expert in organization skills and time management, she owns Chestnut Unlimited, a company specializing in creating environments that inspire people where they live and work.
Andrea is surrounded with many friends from all walks of life near and far. Andrea appreciates being able to share her life story, speaking openly to groups and organizations. Her story of inspiration shows life can be more than your history.
---
Ann Parenti
Things don't always work out the way we plan. That year my grandfather was diagnosed with lung cancer. He had worked at Bethlehem Steel for thirty years and smoked a pack of Camels a day. At fifty-seven, he was in for a sad road ahead. We decided that I would go to school anyway, since this had been long-planned and we had paid the tuition for the first year. So off to school I went. I was there a week when my grandmother called and told me that my grandfather had died on the operating table, but they were able to revive him. He would be safe for now.
Chapter Excerpt: Afterthoughts
Ann Parenti has lived in Las Vegas since 1977 and has owned Parenti & Associates, a manufacturer representative firm, since 1987. In addition, Ann has a music production company, Forgotten Song Productions and released a CD called As Promised. Ann also conducts a lecture series, POSSIBILITIES - The Seminar, which was created in 2009, based on communication, law of attraction, and meditation. POSSIBILITIES has recently been taken nationally. Ann is involved in many business associations throughout the city and is actively involved in several community service projects.
---
Anne Dreyer
The canvases of our lives are filled with brush strokes from life's experiences — some bitter, some joyful — but ultimately we have the choice to either leave ourselves in the dark with unresolved issues or make the decision to take charge of these issues, fix broken relationships, mend quarrels, undo wrongs and then live a life of abundance and freedom. The secret of mastering life is like the stroking of the brush — one stroke at a time.
Chapter Excerpt: Fix It
Anne Dreyer is a sought-after motivational speaker, author, and image coach who lives and teaches Coco Chanel's dictum. With her warm and stylish personality, Anne infects her audiences as she trains and inspires them from her personal life's experience as a successful businesswoman and entrepreneur. Nominated Business Woman of the Year 2008, Anne founded both Colourworks International, South Africa's first Makeover Salon, as well as the first Image Consultants Training Academy.
She is the founder and foreign ambassador of APICSA, the Association of Professional Image Consultants in South Africa, and a professional member of the Professional Speakers Association of South Africa. Anne, master image consultant and etiquette expert, knows and believes that every person can blossom where they are planted and can be irresistible forever!
---
April Aimee Adams
When I was twelve, I tried alcohol and marijuana for the fi rst time. By the time I was fifteen, alcohol joined food as my other best friend. When I drank, I forgot my thunder thighs and the scar marring my face. I felt beautiful and confident — but most important, I wasn't paralyzed with fear over what others thought of me.
Chapter Excerpt: Welcome To Life
After struggling with addiction for many years, April Aimee Adams turned her life
around. She graduated summa cum laude with a bachelor's degree in psychology in 2008.
Owner of Rodnee Books, LLC, she is soon to publish an autobiography called That Don't
Make Ya Bad: A Memoir of Addiction.
Besides writing, April spends her time taking care of her ten-year-old twins. Her main goal in life is to help those who struggle with addiction. She wants to make it clear that people are not their addictions and the true self is still inside them. They are controlled by the monster of addiction, but they can possibly be freed with treatment, which includes self-discovery and personal growth.
---
Bea Goodwin
I nearly sold my soul. I paced in shame and fear in front of the pawn shop window as a worn and weary curmudgeon behind bullet-proof Plexiglas evaluated these remnants of my beloved mother's life. Once priceless sentimental treasures, this day they were a source of hope and shame — a last ditch effort to bail me out from yet another ugly truth. My compulsive gambling was destroying everything of value in my life. I'd like to say that in a moment of clarity and conscience, I was the victor and realized I simply could not part with my mother's gems. The truth is, I didn't pawn her jewelry that day because I was offered a paltry $2,300 — not nearly enough to get me out of the jam I was in.
Chapter Excerpt: Twelve Dollars
Bea Goodwin has been passionately committed to "helping the compulsive gambler who still suffers," since her own recovery journey began more than fourteen years ago. Since then, Bea has encouraged and inspired recovering gamblers and their families by sharing her story. She has spoken for Gamblers Anonymous at both local and national conferences.
The loss of her beloved sister, Lanie, to the disease of pathological gambling changed Bea's life forever. She now dedicates herself fully to her mission as a professional speaker in the field of pathological gambling and recovery.
In addition to her tireless work in recovery for more than twenty years, Bea has held high profile positions in the Las Vegas business community, including president and CEO of Source Sales and Marketing, co-owner of the Provident Group Trust, Broker of Goodwin Enterprises, LLC Realty and executive positions in the Las Vegas gaming industry. Bea Goodwin is available for consulting services, problem gambling, and recovery workshops and keynote speaking engagements.
---
Becky Buckley
If only I had planned my divorce as well as my wedding. Every detail for the wedding had been orchestrated perfectly — a wedding planner, a florist, a caterer, etc. — every expert I could think of to help me, because marriage is about love, and I wanted the special day to be wonderful.
Chapter Excerpt: Financial Freedom
Becky Buckley has been advising clients about creating wealth for twenty-seven years, which includes extensive expertise in financial planning and investment management. She is filled with wisdom and money-making secrets that may change your life, and she will guide you to take the actions necessary to meet your financial dreams.
Becky has the ability to help you focus on the thought that divorce is about money, not emotions, which is critical to you and your family's present and future financial well-being. Isn't the question always, "Am I going to be financially okay?"
Becky is a Certified Financial Planner (CPF) and holds Certified Divorce Financial Analyst credentials. She has commodity, insurance, and series 7 brokerage licenses, is a member of the Financial Planning Association, and the Institute for Certified Divorce Financial Analysts.
Becky is President of Buckley Financial Strategies Group, serving clients with their financial needs in Las Vegas, and is on a select list of advisors who TD Ameritrade recommends to their clients seeking financial advice.
---
Cindy Hallam
I was in jail, wondering how I got there. I went over and over the details in my mind. How did a good Christian woman, a wife and a mother of five beautiful children, end up in jail? Put here by my best friend? None of it made sense.
Chapter Excerpt: A Journey to the Center of Me
Cindy Hallam is a professional speaker and workshop leader. She is a Colon Hydro therapist and owns a small business as well. She is a member of the National Association of Professional Women and is certified in many different healing modalities including: Reiki, Emotional Freedom Technique, Theta Healing, and Essential Oil Therapy.
Cindy has lived in Las Vegas, Nevada for twelve years with her husband, Tim, and their five children. She also sings with the group Vocal Intervention and enjoys performing in the Las Vegas area. She is active in her church and choir and enjoys cooking, knitting, and any kind of spiritual work to expand her consciousness.
---
Charlotte Foust
Standing there in the twilight, a gentle breeze brushing my skin, I wanted to scream. Somewhere in my heart, a crack opened and I fell headlong into the depths of my soul. A tear began its journey down my cheek as I was compelled to look at what I had so long denied. The very real debris at my feet was the image of what my life — my very soul — looked like. This was the image I had seen whenever I looked inside myself to try to find my way out of my invisible life. These were the pieces of my life, the hopes and dreams left unfulfilled … broken and scattered before me, overgrown with the weeds of self-doubt and self-condemnation.
Chapter Excerpt: Broken Mirror
Though her heart lives in the redwoods of northern California, Charlotte Foust's career as a dancer led her to make Las Vegas her home forty-two years ago.
Before becoming executive assistant to a motivational speaker and author, the twists and turns of life took her through successful careers not only as a dancer, but also in sales and marketing, cosmetology, and the title and escrow industry.
As the owner/director of a ballroom dance studio, she developed a program of creative and therapeutic dance for the intellectually challenged community of Las Vegas. She has enjoyed countless hours volunteering with Special Olympics, Children's Miracle Network, and numerous local Las Vegas organizations. Driven by the desire to find balance and harmony, she pursued spiritual studies throughout her journey, finally putting her on a path toward the ministry. Charlotte currently serves as associate minister of Unity Church of Las Vegas.
---
Darlene Mahon
I ate because I was lonely. I ate because I was afraid. My dad's alcoholism created an atmosphere of uncertainty. Many times I was sure he would abandon us and our sick mother. In many ways food met my needs when nothing else did … with a high price tag. Fat. The pain and isolation of obesity was not at epidemic proportions when I was growing up. There were no-plus size clothing shops. I learned to sew out of necessity and made clothes for my baby sister out of the scraps. At eighteen, I weighed 290 lbs on my tiny 5'4" frame.
Chapter Excerpt: Right Lane Ends When You Have to Turn Left
Darlene Mahon has worked as an administrative assistant for over twenty-five years. She has embraced opportunities to provide training to other administrative staff and is currently scheduled to train at two national administrative conferences in the fall. She actively participates in community theatre, has performed in local commercials and corporate training videos. Darlene's compassionate, empathetic presence resonates with audiences everywhere.
---
Deborah Clark
Let's talk about the best of times. The best is different for everybody. It doesn't mean winning the lottery. It doesn't mean a trip around the world. It's a feeling. It's a disposition. It's what that particular person sees as the best thing for him or her at that particular moment in life. Sometimes we can't even describe it, if asked. We dream about it, we imagine ourselves living it. We want it, and know when we are finally having the best time of our lives.
Chapter Excerpt: It Was the Best
As a niche professional speaker, Deborah Clark knows how to deliver programs that provide value to audiences. With a background in all aspects of meeting development, staff training, and event organization, she understands how to meet her clients' needs for a successful event. Her client list includes adult school/continuing education programs, professional associations, non-profit groups, and private clients. In addition to being a professional speaker, Deborah is an active community volunteer through Jersey Cares.
---
Derick Poremba-Brumer
A report of the accident appeared in the local newspaper the next day: A Hatfield youth, Derick Brumer (seventeen) of Church Street, was seriously injured when his motorcycle collided with a taxi at the corner of Church and Thompson streets at about 3:40 p.m. He was admitted to the H.F. Verwoerd Hospital and his condition is said to be critical. (Pretoria News, 6 February 1986). Even after it became apparent that I wasn't going to die in the hospital, the doctors advised my parents not to expect me to wake up. Well, statistically speaking … they were probably right to be cautious.
Chapter Excerpt: The Kindness of Strangers
Since facing a life-threatening injury, Derick Brumer has finished his education, released a motivational CD, 5 percent, (his chance of survival the first night he spent in ICU) and has been delivering inspirational speeches because he knows that anybody can do anything "… if they can give it some meaning."
---
Ginette Osier Bedsaul
In a world of illusion and focus on the external and external possessions, we can sometimes forget that the greatest riches lie within our own true self-love or self-esteem and the love in our lives. On our death beds, it will not be how many stocks we own, the number of sports cars in our driveway, the balance in our savings account, or homes we own that will really count. The most important things in our lives will probably not be things, but experiences that we treasure. Perhaps our life's value will be the amount of love in our lives, how well we have loved ourselves, and generated love into our world.
Chapter Excerpt: Inexorable Love
Ginette has held leadership, training, and coaching positions with an international non-profit organization, worked for several Fortune 500 companies and successfully created and managed her own award-winning entrepreneurial business for the past two decades.
Ginette has been a senior faculty member and senior counselor with the Training in Power Academy for over a decade. She is a senior minister with the Power of Spirit Church. Her work focuses on wellness, healing, meditation, and assisting others to the path of self-awareness.
Her interests are in vibration and transpersonal psychology, spiritual transformation, life potentiality, and the feminine face of God. She holds a bachelor's degree from the University of Nevada, Las Vegas and is pursuing her master's degree in psychology. Ginette presently lives in Las Vegas, Nevada in the richness of a three-generational household.
---
Greg Lay
There I was with my previously calm meeting about to implode. Luckily, one of my friends in the meeting was a trained negotiator. When he saw my blank look, he picked up his chair, moved it over in front of the complainer, and sat there smiling at him. After about five seconds of silence — which felt like much longer — he said something that made my jaw drop. "You're correct. Everything you've said is absolutely right!"
Chapter Excerpt: Does Your "Fact Filter" Hide Possibilities and Waste Time?
Greg Lay writes and speaks to help people in the workplace develop and maintain productive, practical, and positive habits.

In his syndicated column, "Heartily Working," Greg responds to questions from all organizational levels, helping everybody from front line workers to the executive suite with strategies for improving relationships and getting the job done right.
Greg also presents a series of training programs to develop leadership, management, and personal effectiveness skills, combining modern adult education techniques with personalized strategic planning to get results. When you invite Greg Lay to speak to your organization or provide content for your publication, you get a voice for practical solutions to maintain strong productivity with a positive attitude — and your audience gets an entertaining presentation of valuable information to improve performance.
---
Jasmine Freeman
I couldn't tell anyone and this was by far the scariest and most alone time of my life. What was going to happen to me now? The consequences of my actions at this tender age were more than I was prepared to deal with, I didn't know what to do. I camouflaged my secret, hiding in the back of my classes in my baggy clothes and keeping to myself. I thought if I was a shadow, no one would care about me or my secret. I waited six and-a-half long and lonely months, full of fear and anxiety, before I finally decided I would tell my parents about the child growing in my belly.
Chapter Excerpt: A Baby Changes Everything
Jasmine M. Freeman has dedicated herself to hard work and following her passion by joining Office Dynamics as the chief executive assistant to the CEO and founder of the training and development company. Working with administrative and executive assistants, Jasmine supports this fast-paced office in every capacity and has begun to step out into the training arena in the forms of written and video blogs for OfficeDynamics.com and live training at local speaking engagements. Married to a fabulous partner and supporter, Dave, she is the very proud mother of three beautiful children, Troy, Sophie, and Nicholas, and is expecting once again, December 2010.
---
Joan Peck
People had told me how extremely unfair and painful it is for an adult to bury a child. They were right; it is painful enough to literally break your heart. It took my breath away. To this day, there is a physical ache that never completely goes away. A weight deep inside still shifts with the memories that unwittingly intrude, and depending upon where I am emotionally, I either hold them close or push them away.
Chapter Excerpt: It's Not Always what It Seems
Joan Peck has an appreciation and passion for the body's energy centers and is the author of the books, The Seven Major Chakras — Keeping it Simple and A Simple Approach to Living a Successful Life. She is the owner of Bejeweled 7. com, a company that highlights not only her books and meditation CDs, but other spiritual works by local artists. Joan is pleased to be a part of the amazing spiritual growth in the Las Vegas valley, where she presents her workshops, and is honored to work with so many gifted healers. Joan is co-founder and speaker at The Sun, Moon & Stars, a monthly mini-retreat held at the St. Rose Hospital in Las Vegas, Nevada. She resides in Henderson, a suburb of Las Vegas. Joan Peck may be contacted at:
---
Jo A. Wilkins
My father must have suspected trouble, because a police officer met the taxi as it pulled up to the curb at the airport. He whisked us off to the police station within the airport. We stayed there under guard until an officer escorted us to our flight. We were strapped in and taking off before I had time to think about how terrified I was at the thought of flying. It took me no time at all to decide that since it was my choice, I would rather die in a plane crash than be shot with a thirty-aught six.
Chapter Excerpt: The Changing Moment
Jo A. Wilkins was born in Glendale, California in January of 1947. She is the founder and president of the Henderson Writers' Group. Since her early school days, Jo has been an avid reader of science fiction; Isaac Asimov and C.J. Cherryh are among her favorite authors. Jo is the co-author of the Tyranny series, which currently includes Tyranny's Outpost, Tyranny's Prisoner, and Tyranny's Alliance, with two more books to come.
In addition to the Tyranny series, she is developing a murder mystery based loosely on personal experiences. Jo has spent her working years in executive assistant and management positions and is a co-founder of Mystic Publishers, a self-publishing company and Nightfall Publications, a traditional imprint. When not writing, Jo tinkers inside computers and is always available to help her friends maintain their own. She is the mother of six and the grandmother of
fourteen.
---
Joy Huntsman
Unpacking my things after we moved, I discovered I had no place to use my roller skates, the kind you clamped on your shoes and tightened with a key. There were no sidewalks. The dirt road was still more dirt than road, so I put my bike away. I thought my life was over at the age of eight.
Chapter Excerpt: Starting Over
Joy Huntsman is a Professional Development and Transformational Life Coach who supports individuals and organizations in realizing their dreams. She and her family were raised in Las Vegas. She's lived on both coasts and outside the country, and has traveled extensively. Joy has held numerous leadership positions in business and community organizations. Although she's received many awards and acknowledgements, nothing has given her more satisfaction than coaching individuals and businesses in reaching their full potential.
It's never too late! It's never too late to begin again. It's never too late to go after your dreams. Do whatever it is that you need to do so that you have zero regrets at the age of eighty! "Life works better with joy!"
---
Judi Moreo
Things like this don't happen to me. This happens to other people. People I know. People I don't know. Not me! I've never been seriously ill in my life. Oh, I've had a few sinus infections along the way, but cancer? Did she really say, "You have breast cancer?" That doesn't run in my family. We have heart attacks and strokes. We don't have breast cancer! But then, she didn't say "We." She said, "You," meaning, "Me."
Chapter Excerpt: Not Me!
Judi Moreo is the author of You Are More Than Enough: Every Woman's Guide to Purpose, Passion, and Power, and it's companion, Achievement Journal.
She is an award-winning businesswoman and motivational speaker. Her superb talent for customizing programs to meet organizational needs has gained her a prestigious following around the world. Her passion for living an extraordinary life is mirrored in her zeal for helping others realize their potential and achieve their goals. With her dynamic personality and style, she is an unforgettable speaker, inspiring motivator, and an exceptional life coach.
---
Kathy Jo Pollack
On a very cold day in January 1998, I left Pittsburgh for Las Vegas with my mom, Teresa, and sister, JoEllen. Little did I know this was not the end, but the beginning of my life. Having decided that a divorce was inevitable, I made the choice to get away and see things in an entirely new environment. The much-needed invitation from my family was timed perfectly. After sixteen years of marriage, I would no longer be building my husband's career. Now I would be building my own. Where? When? How?
Chapter Excerpt: Success: A Choice, Not A Gamble (even in Vegas)
Kathy Jo Pollack is living her dream as a certified life coach, trainer, and speaker while empowering others to discover and live their dreams. Specializing in personal finance, relationships, and etiquette, she focuses on the basics. Her first passion, personal finance, began when she was the training specialist for Consumer Credit Counseling Service where she worked with thousands of people from all walks of life. She helped them gain money management skills and build good credit. Taking this to a new level, Kathy Jo became a certified life coach and launched her own business offering coaching, teleclasses, workshops, and public speaking.
In addition to presenting over 700 seminars, Kathy Jo has given many radio interviews and she can be heard monthly on Weekend Focus (News Radio 1170 WWVA.) She has written numerous articles and had the privilege of being interviewed by the Wall Street Journal. Her most requested seminar is: Get on Track with Your Finances along with her corresponding article: The A, B, C, Ds of a Healthy Financial Plan.
Her memberships include: International Coach Federation, National Speakers Association, Relationship Coaching Institute, and Pittsburgh Coaches Association. Kathy Jo is full of energy and easily engages her audiences with her down-to-earth personality.
---
Mike Levin
A Colombian assassin named "Loco" told me to never look back when you leave the prison gates. It's bad luck. If you do, you will return. I'm not superstitious but believe me, it was time for me to re-start my life and be a better man. Needless to say — I never looked back and I kissed the ground like the Pope does when he arrives in a foreign land.
Chapter Excerpt: Reinventing Myself
Mike Levin has a BS in Criminology from Florida State University. He was an FBI Special Agent from 1989-1998 and currently consults with several Towing Companies in regards to Marketing/Sales in Las Vegas, Nevada. Mike is the founder of "Friends for Felons," a non-profit organization dedicated to helping non-violent ex-felons regain their confidence in the business world. Mike is also dedicated in helping people find inspiration and motivation in everyday life thru his speaking engagements.
---
Peggy Vasquez
Each of us was designed for greatness. To be our best we need to become our best unique self. We don't need to become a "mini-me" of another great person. Sure, it's natural to emulate someone we admire, but we need to stay true to who we are. When we strive to become like someone else, we will always be small — a mini version of that someone else. When we play to our strengths, we can become more than we dreamed of … more than we imagined.
Chapter Excerpt: The Mentoring Mirror: Seeing Yourself through the Eyes of a Mentor
Peggy Vasquez has been an executive assistant for top executives for more than a decade. In addition to providing daily support to C-level executives, she is called upon to provide leadership and training. Peggy has led executive assistant teams and together they have designed and implemented many successful programs for administrative staff, including: Award of Administrative Excellence, Annual Office Professionals Seminar, Administrative New Hire Training, Quarterly Administrative Development Forums, National Award Recognition, Personality Profile Training, and a Mentoring Program. Peggy's belief in the value of the administrative professional inspires her to share her passion, knowledge, and techniques to empower others to succeed.
---
L. Eric Culverson
I recently heard someone say, "What we need is change!" and then I heard someone else say that "Change is coming!" That's like standing at the window watching the pouring rain, watching the flood waters rise and wash away much of everything in its path, and somewhere in the background, I hear the unmistakable sound of the weatherman, forecasting partly cloudy skies! It's raining, people! Change is not coming, change is here!
Chapter Excerpt: Change, the Constant Stranger
L. Eric Culverson is the rare exception in almost every situation. He is the classic analytical engineer who just happens to be an excellent communicator, and part-time stand-up comic. Over the span of a twenty-year career as a corporate training consultant, Eric has gained a reputation as an innovative thinker, motivator, and public speaker. He was selected as the first North American ATP (Authorized Training Provider) by Xilinx Inc., a global semiconductor manufacturer.
As a member of the Las Vegas chapter of NSA, and a two-time Toastmaster District 33 speech contest winner, Eric demonstrates his commitment to the principles of lifelong learning. Eric understands and clearly articulates the virtue of individual planning and execution. He continually encourages clients, friends, and associates to recognize the inherent power and capability we all possess. Despite any current circumstance, this is the time — the only time — that we have to start shaping our future.
In this period of relentless and unprecedented change, Eric's is the voice of reason, perspective, and determination. His message is one of personal empowerment as he relates his own story of sacrifice and adaptation. Like a typical engineer, Eric offers practical approaches to both coping with change and mastering the opportunities that change presents.
---
Lori La Bey
The pupils in the mirror swelled and overtook the blue irises, like symbols crashing in celebration. Black piercing eyes now stared back at me, frozen in fear. Then, a subtle "pop" and the sleek metal vessel shot out from the other temple of the pale faded face. The voice inside me was vibrating at such a high frequency it made my body tremble. No more. It must stop. You must change. The gun is loaded, Lori!
Chapter Excerpt: A Caregiver's Nightmare: Mirror Image
Lori La Bey drives change in service delivery to individuals and caregivers by enhancing
relationships between consumers and businesses. Her core beliefs are based on effective
communication and respect for and with all involved.
In the two past decades, Lori has experienced life-changing events dealing with the
loss of her father in 2001, who died of brain cancer, and her mother who was diagnosed
with Alzheimer's disease.
Lori has thirty-five years of experience helping businesses, organizations, and individuals maneuver change. She is well-known for her work with seniors and was recently featured on FOX News for her cutting edge work with Alzheimer's disease. Lori is a speaker, trainer, consultant, author, and a self-proclaimed advocate on steroids for Alzheimer's disease.
---
Lynette Chappell
Even with all of the stress, we settled into the routine of the show. We knew what tomorrow would bring — generally — and for the most part my life was orderly. Then something happened that no one could have predicted. During one of the performances Roy came within seconds of dying. I was upstairs in my dressing room waiting for my cue to go on. Instead, I heard screams of horror and came flying down the stairs to see what was going on. It was at that moment that all my training, all my discipline was put to the test. The only thing that mattered was Roy.
Chapter Excerpt: The Rainbow That Never Fades
Within the dynamic polarity of the constellation known as Siegfried & Roy, there exists a third point of light, named Lynette Chappell, who is powerful, radiant, and essential in maintaining the balance and harmony between these two extraordinary stars. When unexpected tragedy struck, Lynette's glamorous life under the glistening lights of Las Vegas suddenly transformed into chaos and pain.
Lynette is an actress who can dance, a manager with compassion, a confidant who will take your secret to the grave. She can coordinate everything and anybody – just not polyester. She is a Guinness Book of World Records holder who has performed in over one thousand shows on three continents. Currently on the board of directors for a major skin care magnate, her attitude, agility, grace, and ingenuity have kept her at the top of her game for over forty years. Discover what has captivated master illusionists Siegfried & Roy and audiences for decades!
---
Myriam Lazo
I was eight years old when my father decided it was no longer safe for us to stay in Nicaragua. He was very tired and scared because his wife and five children had to sleep under the bed to be safe from all of the bombs and bullets flying through the air at night. Father was able to get visas for himself, my mother, the five of us, our grandmother, and our uncle.
Chapter Excerpt: Leave the Door of the Past Behind You
Myriam Lazo was born in Granada, Nicaragua during a time of political unrest and conflict. Her family settled in Las Vegas, Nevada where Myriam still resides with her three children.
Myriam's faith and church have played an important role in her life. She is an active member of Hope Baptist Church. A successful businesswoman, she has owned and operated Elegant Cleaners since 2001.
---
Victoria Lane
I thought my family obviously didn't care about me or they would want to spend time with me. My boss was so wrapped up in her power plays that she had no idea whether I was there or not, unless I made a mistake; then she was all over me with ridicule and complaints. Around this time the mental tornadoes started getting worse and more frequent. Everything I thought I knew and believed in started changing. There were mornings I would get up and go to work after being awake half the night because I couldn't sleep. I didn't mind that I seldom saw my family because I figured they were happier without me.
Chapter Excerpt: Mental Tornado
Victoria (Vickie) Lane is an executive assistant to the Chief Medical Officer of a large health system in Florida where she has worked for the past eleven years. Vickie has been married to Roger for over twenty-eight years and together they have two wonderful sons, Randy and Ryan, along with the women in their lives who are like daughters to her. With her family's loyal support, she was able to earn her associates degree in 2002. In 2004, she received her Certified Professional Secretary (CPS) certification, then continued on in 2005 to achieve her Certified Administrative Professional (CAP) certification.
On August 28, 2006, Vickie was diagnosed with breast cancer and although thankfully she is now cancer free, she continues to be an advocate for early detection and continues to show her support by helping to raise funds needed for research to hopefully put an end to the disease. Among the numerous fundraising activities she actively participates in, Vickie, along with three other teammates, is on a team to participate in the sixty-mile Three-Day Walk to end breast cancer (www.the3day.org).
Editors Note: Vickie is one of eight people who will be carrying a flag representing cancer survivors in the opening and closing ceremonies at this year's Breast Cancer 3-Day event.
---