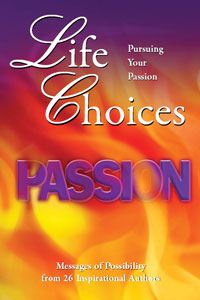 $24.95

If you have ever had a dream that you wanted to pursue but didn't have the courage, if you've ever wanted to do something that you didn't think you could do, if you have ever wanted to go somewhere but didn't believe it was possible… READ THIS BOOK. Twenty-six authors share with you how they pursued their passions and made their dreams become reality.
Read more about the contributing authors and chapter excerpts by clicking on their names below:
---
Jeff Civillico
Further conversation revealed that although everyone agreed it was theoretically possible to create an enterprise based on passion, the undertaking seemed unrealistic and impractical to most. How are you going to pay the bills? How do you meet the right people to help you? What if you don't have some weird talent like juggling? Clearly there existed a gap between understanding the importance of a career based on passion and understanding how to brand, market, and monetize that passion.
Chapter Excerpt: Do What You Love; Love What You Do
Jeff Civillico is a Las Vegas based headline entertainer who blends his perfected art of juggling with friendly audience interaction and insane amounts of energy. With his "Comedy in Action" show, he has performed everywhere from Australia and New Zealand to The White House. He is a favorite onboard Disney Cruise Line, and his credits on the Las Vegas Strip include V: The Ultimate Variety Show, Nathan Burton, and Th e Improv at Harrah's. In addition to his comedy show, Jeff also delivers a powerful keynote that illustrates the keys to "Branding Your Passion" to create the career, and lifestyle, of your dreams. A 2005 honors graduate of Georgetown University, Jeff currently serves as President of the Georgetown Alumni Club of Las Vegas. He is the Founder and President of Win-Win Entertainment, a non-profit that pairs performers willing to donate their time and talent with charities in need of entertainment.
---
Dallas Humble
Gain mastery over the tendencies toward retaliation. Don't conform to the world or be overcome by evil, but overcome evil with good. The only way to get past resentment, revenge, rage, or retaliation and have the life you desire is forgiveness. Realize that anger is only one letter away from danger, like a cancer that will eat you up on the inside. Close the door and move forward. Without doing so, the true joy and peace that life can hold for you will never be experienced. Make the decision today to forgive when wrong comes your way; you will not only experience true joy, but you will also be on your way to achieving the successful life you desire.
Chapter Excerpt: Making the Decision to Forgive
Dr. Dallas Humble is an entrepreneur, author, speaker and success/wellness coach teaching others how to live life at its highest level. He has served as CEO of several successful businesses, written numerous articles published in professional journals on business management, wellness and success strategies and has authored numerous books and recordings sold worldwide. Often known for his Make It Happen and Peak Performance Strategies, he has been featured in several personal development films and recordings including The Journey, a movie documentary with Brain Tracy and Bob Proctor. He is one of the highest sought after motivational speakers in America delivering positive inspirational messages of hope, faith belief and a winning attitude to those with whom he comes in contact. Dr. Humble is available to speak to groups, churches or organizations on any of these subjects.
---
Justina Rudez
I shifted the passion I had for hairdressing to a new and even more exciting passion of helping people live healthier lives and achieve their goals. I realized what I had found was the TRUE American dream! This was the perfect business. It didn't just pay me for my time. As long as I worked hard, it paid me over and over again!
Chapter Excerpt: My True American Dream
Justina's story today is very different from where it began, when she was a child growing up in Croatia. After Justina's father passed away when she was just over a year old, her mother struggled to care for Justina along with her seven siblings. At the age of 12, Justina and four of her siblings convinced their mother to immigrate to Italy. Then it was on to New York, where she began working in a sweatshop to help support her family. After several years, Justina opened her first hair salon. Eventually, she left her hairdressing business and shifted her focus to network marketing. She is a member of USANA's elite Million Dollar Club.
---
Mary Monaghan
Yes, I was scared. The security of a steady income was gone. I tried to think of the freedom I was gaining to do new things. Instead of looking at this as something negative I chose to see the exciting possibilities it brought. Now I would have time to finish my book, publish it, and share my story with others. I was being given the opportunity to reach for my dream.
Chapter Excerpt: Follow Your Heart
Mary Monaghan is the author of Remember Me?, a story of survival and new beginnings, now also adapted into a screenplay. She was a contributor to Writing the Self, an anthology of women's writing and is currently busy with her second book, Who do you belong to? due for publication in 2010.
She lives in Cape Town, South Africa and travels frequently to Europe and the United States. As well as being a successful writer, she is a speaker and also facilitates change and leadership development interventions. She has a passion for helping people develop themselves to be the very best they can be.
---
Darren LaCroix
I'm so thankful for my biggest failure, my sandwich shop, and most importantly, the question that opened my mind to the possibilities. Were I not at the lowest point in my life, I might never have pursued my passion. Though many times along the way I questioned myself, I'm so glad I never gave up. The little victories kept me going.
Chapter Excerpt: Stage Time
In 2001, Darren LaCroix, The World Champion of Public Speaking, outspoke 25,000 contestants from 14 countries to win that title. That was just a benchmark. Since that victory, Darren has traveled the world demystifying the process of creating a powerful speech. He has roused audiences in faraway places like Saudi Arabia, China, Oman, Malaysia, and Taiwan with his inspirational journey from first-rate chump to first-class champ, proving anything is possible if you are willing to work for it.
---
Ridgely Goldsborough
"Cause I want to grow a tree, Jimmy," Tim said quietly. "Nobody is remembered for how many times they fail — only by how many times they succeed. No one will remember the fallen acorns, but all will gaze upon the tall oak scratching the sky."
Chapter Excerpt: Are You Nuts? A Nutty Tale About Passion
Author, speaker, and serial entrepreneur, Ridgely Goldsborough ("Richeli" in Spanish), has written nine books, produces a column entitled, "A View From The Ridge" and is the creator of Modest To Millions, a program that chronicles the principles of prosperity, success, and wealth accumulation according to successful self-made individuals.
Ridgely began writing as the publisher of the Upline Journal, a monthly periodical. He founded Network Marketing Lifestyles magazine, distributed by Time-Warner and Domain Street magazine, the first publication of the domain names industry.
As a partner in LightSpeed Marketing Unlimited, Ridgely has been immersed in all phases of internet marketing, including website development, user interface, affiliate marketing, SEO and sales conversions, with an emphasis on speed to market.
---
Charlyn Shelton
As I stood there and heard their responses, the 'perfect mask' I had been hiding behind during my entire adult life started to crack. You might know the one, the perfect face some of us present to the public, covering the wounds inside. The tears welled up and gently started rolling down my cheeks. The self-imposed walls were crumbling and the dam burst. I couldn't move. I couldn't speak. I could barely breathe.
Chapter Excerpt: What's Behind Your 'Perfect Mask?'
Entrepreneur, speaker, consultant and writer Charlyn Shelton has used her unparalleled business background to create a life devoted to helping other women find happiness and success. Charlyn enjoys spending her time making a difference in people's lives. She is known as the 'Catalyst to Happiness, Wealth and Wellness' to her clients, colleagues and friends. With her humor and her contagious laugh you too will understand why
---
Anthony Spinicchia
It should go without saying that pursuing your passion is a path to a fulfilling life. Most people dream about this life, but unfortunately, not everyone really finds it. Most of us want to pursue our passion, but for various reasons fail to do so. Some people, like me, are passionate about a lot a things but are not focused on any particular thing. For some, it takes the vision of someone else important in our lives to motivate us and help us focus on pursuing our passion, for the good of ourselves and others. In my case, it turned out to be my Sifu. This guidance led me to a life of fulfillment that I would never have imagined.
Chapter Excerpt: The Master Knows Best
Anthony Spinicchia teaches Shaolin Chi Kung to individuals, groups, and organizations, including customized programs for conferences, and conducts public and private lectures on this incredible art and how it is relevant to organizations and people today. He also provides personalized Chi Therapy to help people self-heal from chronic, painful, and life-threatening conditions. Anthony's popular lectures and presentations are known for being informative, interesting, and fun. If you would like a presentation to your group or organization on Shaolin Chi Kung, its Zen approach of "simple, direct, and effective" and how it is relevant, or if you are interested in Chi Therapy for yourself or a loved one, Anthony Spinicchia can be reached at:
---
Charlotte Foust
Passion is also quiet, patient and enduring. It is that spark of life deep inside, coaching, cajoling and directing even when we are not aware of its existence. We can bury ourselves in other pursuits, find our way into successful careers and forge relationships without ever consciously acknowledging our true passion. Many of us do.
Chapter Excerpt: The Whispers of My Heart
Though her heart lives in the redwoods of northern California, Charlotte Foust's career as a dancer led her to make Las Vegas her home forty-two years ago.
Before becoming executive assistant to a motivational speaker and author, the twists and turns of life took her through successful careers not only as a dancer, but also in sales and marketing, cosmetology, and the title and escrow industry.
As the owner/director of a ballroom dance studio, she developed a program of creative and therapeutic dance for the intellectually challenged community of Las Vegas. She has enjoyed countless hours volunteering with Special Olympics, Children's Miracle Network, and numerous local Las Vegas organizations. Driven by the desire to find balance and harmony, she pursued spiritual studies throughout her journey, finally putting her on a path toward the ministry. Charlotte currently serves as associate minister of Unity Church of Las Vegas.
---
Jan Mills
I remember sitting and weeping in Sanoviv's Education Center after an introductory presentation. My tears were of appreciation and admiration that finally someone had created a holistic center that truly embodied the concept of "holistic." My tears were also a confusion of excitement, curiosity, and sadness as I thought of how this would be a place where I would one day receive something invaluable and truly priceless for my own health.
Chapter Excerpt: Journey to Wellness on the Cranium-to-Cardio Causeway
Jan Mills is an international speaker, author and health coach. She is featured in Waking Up the West Coast - Healers and Visionaries and is a contributing writer to numerous books including the Heart Book Series – Heart of a Woman, Heart of the Holidays and Heart of a Woman in Business.
As a professional speaker, Jan has a gift for inspiring her audiences and clients while educating them. Her successful business career and personal triumph over adversity have served an impressive client list that appreciates her wisdom coupled with a witty sense of humor. Her passion for a holistic approach to health and her years of research and training in the wellness industry has demystified and simplified health care choices for people from three continents.
---
Cindi R. Maciolek
It wasn't all unicorns and rose-colored glasses. We had to learn to trust each other and understand how the other person thinks and works. We face different situations in our personal lives and have two completely different types of business. But through a lot of patience, listening, and commitment to helping each other be the best we could be, we've developed something greater than the sum of the parts.
Chapter Excerpt: Entrepreneurship: Finding
Cindi is a writer and business consultant, helping small to mid-size companies with everything from strategic planning to marketing activities. Her book, Divatiel: Reflections of a bird's companion, is a true labor of love. Java Jems: 5 Minute Inspirations for Busy People is both a book and CD. She has also written for Luxury Las Vegas and Robb Report Magazine. There's more to come. Stay tuned!
---
Jenna Doughton
Detours and challenges happen. It's called life. Many small businesses fail because people lack the patience to work through the rough times. Sometimes a detour will create something totally different than you had in mind, but its okay if it's true to the business and the end result. Take risks. No one ever got anywhere staying within his or her comfort zone. Many times, when we push ourselves outside of our comfort zones, great results occur.
Chapter Excerpt: Success through Friendship
You don't have to be a celebrity to have your own stylist. Jenna Doughton is a personal style consultant, providing professional wardrobe advice to men and women around the country. She specializes in developing individual style.. For over sixteen years, she has helped hundreds of individuals find their inner diva and express themselves through their wardrobes. She has assisted several companies in group settings and one-on-one with their employees, creating a professional environment that reflects the individual and company values at the same time.
---
Sandy Kastel
One thing I realized is though we make plans, they don't always turn out the way we expect. No matter how we try to anticipate the future, there is still no way to predict the outcome. All we can do is be open to the possibilities and while life happens, continue to pursue our passion.
Chapter Excerpt: It's About Time
Sandy Kastel knows all about the impact of life choices. A singer and Miss Nevada title-holder in the Miss America Pageant, her life has been a series of detours, taking her on an incredible journey leading up to a career as an artist, clothing designer, singer, songwriter, publisher, producer, and playwright.
A recording artist, Sandy has released two CDs and is preparing for her third, which will include her original songs. This Time Around, a tribute to the American Songbook and the performers who made the songs famous, hit the radio stations in 2007. Only In Las Vegas, a collection of songs from her television special, The Event, aired nationally. She has two upcoming books slated for 2010. Detours talks of choices made in her life and the self-help methods available to all of us when making life transitions. In Miss America: What It Takes to Win the Crown, Sandy shares her journey to the Miss America pageant, the women she met, the volunteers who donated their time to the organization, and the tools to help young women in the pursuit of their dreams. Sandy is a member of the National Association of Songwriters, the Recording Academy, and BMI. She provides her talents and continues to support the work of numerous charities: Jerry Lewis Telethon, Children's Miracle Network, Disabled Veterans, Safe Nest, Policemen, Firefighters, Public Broadcasting and Public Radio, National Hot Rod Association's DRAW, Save the Wild Horses, and the Omni-Equus Foundation.
---
Bill Lynch
How you spend your time reflects not only your goals but also your values. Keep your activities within the playing field defined by your values and you will be happy and successful. Stray from your values and you will be miserable … no matter how much money you make.
Chapter Excerpt: Put Yourself Last: A Reality Check
Bill Lynch, president of Comsel Communication, writes, consults and speaks on customer acquisition and revenue growth for small to mid-sized businesses. Lynch shares his recipe for success in helping small business owners develop business plans, deal with the financial realities of small business, and clarify the roles of cold calling and networking. He assists small business owners in understanding the value of a new customer and how much to invest to acquire one. Lynch teaches people the need to trust yourself to produce high value results and offers solutions on how to do so.
---
Kevin B. Parsons
Who would have thought that a team, making that many mistakes — big ones — could win a championship? To what could we give the credit? We refused to allow obstacles to stop us. Flat tires? Fix them and keep going. Rain? Race in the dark, struggle to see through the downpour. Broken collarbone? Pick up the bike, get on and race with one arm until you get to the next pit stop. We maintained team integrity, prepared and entered every race, and did everything we could to finish, no matter what. The three of us kept focused through the season, encouraging one another in spite of our mistakes.
Chapter Excerpt: Lessons Learned in the Dirt
Kevin grew up Seattle, Washington, and rather than have an affair, moved to Las Vegas for a mid-life crisis. He's written Ken Johnson & Roxi the Rocker, an illustrated children's book. His story, My Love Misplaced, was published in Seeking God First, an anthology. The teaser for his novel, Silent Night, Holy War , first of a three book series, is published in Writer's Bloc III, an anthology.
Along with writing and speaking, Kevin owns five businesses in the construction and real estate industries. He's a member of Toastmasters, Henderson Writers Group, and American Christian Fiction Writers.
---
Judi Moreo
When we have passion, our minds let go of blocks and barriers, because we are focused on what we wish to accomplish and the expectation of what good we can make happen. When we are passionate, we take great joy in our steps forward – both big and small, using what didn't work as lessons learned, setting new goals, moving onward and upward to achieve these new goals. In other words, when we are passionate, we get on with it!
Chapter Excerpt: Choose Passion
Judi Moreo is the author of You Are More Than Enough: Every Woman's Guide to Purpose, Passion, and Power, and it's companion, Achievement Journal.
She is an award-winning businesswoman and motivational speaker. Her superb talent for customizing programs to meet organizational needs has gained her a prestigious following around the world. Her passion for living an extraordinary life is mirrored in her zeal for helping others realize their potential and achieve their goals. With her dynamic personality and style, she is an unforgettable speaker, inspiring motivator, and an exceptional life coach.
---
Dolores Ramsey McLaughlin
Life misfortunes can change our lives. These experiences enlighten us to changes that will make an impact in our knowledge and awareness. My experience with Ben has taught me important information about pursuing my passion. First, a true pursuit of passion will lead us to a place we've never been. Secondly, there will be risk involved, which requires courage to proceed. Third, awareness of the direction to go will come at unforeseen times. Next, we must be willing to forgive self and others. Lastly, pursing our passion requires development of an openness to learn from the experience.
Chapter Excerpt: A Place I've Never Been
Delores Ramsey McLaughlin is a motivational speaker that can inspire audiences from corporate to faith based. She has a gift of making the most serious topics become less intimidating and more accepting. The founder & executive director of "All Out Communication" and "Freedom-N-Christ Ministries" she teaches effective leadership skills, strategies to successfully pursue your dreams and how to bridge gaps between cultural and religious differences. Delores passion lies in communicating on all levels to maintain effective communication. She has a bachelor's degree in Communication, Master's in Leadership and is the Senior Minister of Freedom-N-Christ. She also enjoys professional membership with the National Speaker's Association.
---
Marisa Wollheim
Have you ever observed someone doing mundane tasks … like sweeping the road … yet there is passion present one can see, feel, and experience. Spirit is in action! Getting in touch with that divine presence ignites us and inspires others! The journey of self discovery is the richest journey one can encounter and self-awareness is the greatest investment you can make in yourself.
Chapter Excerpt: Passion is Your Reward for Connecting to Your Spirit
Marisa Wollheim is the honorary director and trainer of hospice in the west. Her involvement started twenty years ago and has built up a wealth of experience and knowledge. Her wisdom has come from walking a path with dying people and their loved ones, who in turn have inspired and taught her how to live and appreciate life. She is an inspirational, motivational, and confident speaker; her presence demands the highest respect, yet her humbleness is felt and she is not afraid to confront and own her adversaries and weaknesses. On her personal journey of growth, she has trained with Dr Elisabeth Kubler-Ross, as a psycho-neuro-immunologist.
She is a current student of the Ramtha School of Enlightenment and her passion is facilitating and empowering people, reminding them of their divinity. Marisa is an only child; widowed two years ago, she has three beautiful adult children: Dominique, Clinton, and Cindy. Marisa can be reached at:
---
April Aimee Adams
I was earning straight A's and I was on top of the world. Finally I had a purpose in life. Nothing was going to stop me. I didn't have to be pushed by fear anymore. I could decide what I wanted and go after it. I didn't need to passively sit in and watch my life go by. I could write my own play and decide how my story developed. I graduated summa cum laude in 2009 with a degree in psychology at the age of forty-one.
Chapter Excerpt: It's Never Too Late
After struggling with addiction for many years, April Aimee Adams turned her life
around. She graduated summa cum laude with a bachelor's degree in psychology in 2008.
Owner of Rodnee Books, LLC, she is soon to publish an autobiography called That Don't
Make Ya Bad: A Memoir of Addiction.
Besides writing, April spends her time taking care of her ten-year-old twins. Her main goal in life is to help those who struggle with addiction. She wants to make it clear that people are not their addictions and the true self is still inside them. They are controlled by the monster of addiction, but they can possibly be freed with treatment, which includes self-discovery and personal growth.
---
Ann Parenti
Through a series of events which occurred over the last couple of years, I have slowly released my creative self from the shadows of doubt. When the economic world around us appeared to be dramatically changing, I realized it was an opportunity…a gift to pursue my hidden passions.
Chapter Excerpt: Leap of Faith
Ann Parenti has lived in Las Vegas since 1977 and has owned Parenti & Associates, a manufacturer representative firm, since 1987. In addition, Ann has a music production company, Forgotten Song Productions and released a CD called As Promised. Ann also conducts a lecture series, POSSIBILITIES - The Seminar, which was created in 2009, based on communication, law of attraction, and meditation. POSSIBILITIES has recently been taken nationally. Ann is involved in many business associations throughout the city and is actively involved in several community service projects.
---
Bea Goodwin
Throughout those days I was like a lioness protecting her cub, just as I know Lanie would have been for me. The fighting was over and it was time to say goodbye to my best friend. We arranged a time for all of the family and friends and her pastor to gather for a "love circle."
Chapter Excerpt: The Chapter That Shouldn't Have Been Written
Bea Goodwin has been passionately committed to "helping the compulsive gambler who still suffers," since her own recovery journey began more than fourteen years ago. Since then, Bea has encouraged and inspired recovering gamblers and their families by sharing her story. She has spoken for Gamblers Anonymous at both local and national conferences.
The loss of her beloved sister, Lanie, to the disease of pathological gambling changed Bea's life forever. She now dedicates herself fully to her mission as a professional speaker in the field of pathological gambling and recovery.
In addition to her tireless work in recovery for more than twenty years, Bea has held high profile positions in the Las Vegas business community, including president and CEO of Source Sales and Marketing, co-owner of the Provident Group Trust, Broker of Goodwin Enterprises, LLC Realty and executive positions in the Las Vegas gaming industry. Bea Goodwin is available for consulting services, problem gambling, and recovery workshops and keynote speaking engagements.
---
Cheryl Smith
To find my true north, I had to focus all of my attention in the direction of my goals, desires, and dreams in an effort to attract the success I wished to have in my life. It was as much about knowing what I did not want as it was about knowing what I did want. Now whenever I get that uneasy, unfulfilled feeling, I make the time to nurture that place inside of me that drives my zest for adventure; that place where all my creativity is generated; where my talents, desires, and passions converge with action. I regularly review these steps and make adjustments to my plan along the way.
Chapter Excerpt: Finding My True North
Cheryl Smith is a professional marketing and media executive who specializes in working with small- and medium- sized businesses to develop their brands on shoestring budgets. As a professional speaker and coach, her audiences and clients enjoy well-researched material filled with practical solutions.
In 2005, Cheryl founded Banyan Communications Group, LLC, a niche consulting firm specializing in business marketing and public relations. Her insight into the ever-changing marketing landscape is built upon her personal experiences. Her career began in professional journalism writing for United Press International and the Peoria Journal Star. She later was the director of marketing and media spokesperson for six hospitals and several health care companies including Evangelical Health Systems; Advocate Health Care in Chicago; and HCA Sunrise Health in Las Vegas.
Cheryl holds a Master of Arts in public affairs reporting from the University of Illinois, a Bachelor of Arts in mass communication/print journalism from Western Illinois University, is a trained facilitator and affiliate member of the National Speakers Association, Las Vegas Chapter.
---
Laura Peters
When creating my role as Marilyn Monroe, I ran across an interview of Shelly Winters talking about being roommates with the real Marilyn when they both were starting out in Hollywood before they became famous. Shelly asked Marilyn, "If a thousand agents and directors out there said you have no talent and you'll never make in this business, what would you do?" Marilyn said in a soft and definite voice, "Then a thousand agents and directors would be wrong." She knew who she was. She created Marilyn and no one could tell her any different. She believed in herself. She became independent of the opinions of others. This characteristic of hers helped me become the person I wanted to be and helped me achieve my dreams and goals.
Chapter Excerpt: Becoming Marilyn
Laura Peters is a professional speaker, performer and entertainer who has been in the industry for more than 30 years. She is best known for her portrayal as Marilyn Monroe in the world famous Las Vegas Legends in Concert show. Se headlined on the Las Vegas strip as well as toured all over the world. Her one woman show, Becoming Marilyn, is scheduled to open in the fall. The show is a musical…sometimes serious…comedy, on the parallels and differences of the woman who portrayed Marilyn and the woman who was Marilyn. An exploration of the "what if's" for both women had Marilyn not passes away at the age of thirty-six.
Laura is a member of the National Speakers Association, Las Vegas chapter. With an upbeat, informative, and entertaining style, her expertise is in the area of helping professional sales teams increase their productivity and achieve their goals. She is passionate about assisting others on their path to achieving their dreams, desires, and goals.
---
Sandra Gore-Nielsen
A friend asked me why I felt driven to write. Who cares why I'm driven? I'm just happy following the Muses. For years I wandered around lost in my life, not knowing what I was supposed to be doing. I attended weekend workshops with life coaches, making lists of goals and analyzing my psyche according to whatever formula that guru invented. I am so happy to feel driven again. How wonderful it is to have "more ideas than time" instead of "time with no ideas."
Chapter Excerpt: The Muses Whisper
Born in Kansas City, Sandra is a baby boomer who escaped the Plains on a one way ticket to Iceland to explore the world while her friends were partying at college. She returned to the United States after twenty five years in Europe, Africa, Central America, and the Middle East, with an art degree and speaking five languages. Life-phase three included a daughter and son, a successful scientific company, a stint as elected official and planning commissioner, a beach house in California, and always, a loving and supportive husband. The latest era began in Las Vegas with the creation of www.sandraoff thestrip.com, a magazine blog dedicated to the adventures of an eclectic mind. Just finishing her first book, Sex and the Zen of Shopping.
---
Anne Dreyer
In order to pursue your passion, you have to know who you are, what makes you happy, and what makes you feel energized. It is important to realize that your fulfillment in life is dependent on your becoming and doing what you were born to be and do. Our minds are so often bombarded with negative energies and ideas, it is imperative to know that if you can change your thoughts…you can change your life.
Chapter Excerpt: The Cameo of Your Life
Anne Dreyer is a sought-after motivational speaker, author, and image coach who lives and teaches Coco Chanel's dictum. With her warm and stylish personality, Anne infects her audiences as she trains and inspires them from her personal life's experience as a successful businesswoman and entrepreneur. Nominated Business Woman of the Year 2008, Anne founded both Colourworks International, South Africa's first Makeover Salon, as well as the first Image Consultants Training Academy.
She is the founder and foreign ambassador of APICSA, the Association of Professional Image Consultants in South Africa, and a professional member of the Professional Speakers Association of South Africa. Anne, master image consultant and etiquette expert, knows and believes that every person can blossom where they are planted and can be irresistible forever!
---
Ginette Osier Bedsaul
We often look up to people who lead brilliant, meaningful lives. Those people who have sparkling energy, who make purposeful contributions, and have a deep sense of profound richness and glory. They seem focused, golden, blessed, brave, and somehow insightful to the secret of a life well lived. These people are usually very passionate people. They have an energy about them, a sentience which takes them beyond the everyday vanilla existence into living a technicolor life.
Chapter Excerpt: Passion Expressed
Ginette has held leadership, training, and coaching positions with an international non-profit organization, worked for several Fortune 500 companies and successfully created and managed her own award-winning entrepreneurial business for the past two decades.
Ginette has been a senior faculty member and senior counselor with the Training in Power Academy for over a decade. She is a senior minister with the Power of Spirit Church. Her work focuses on wellness, healing, meditation, and assisting others to the path of self-awareness.
Her interests are in vibration and transpersonal psychology, spiritual transformation, life potentiality, and the feminine face of God. She holds a bachelor's degree from the University of Nevada, Las Vegas and is pursuing her master's degree in psychology. Ginette presently lives in Las Vegas, Nevada in the richness of a three-generational household.
---