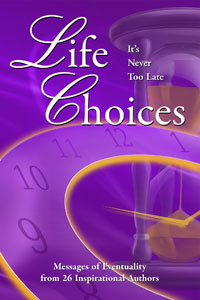 $24.95

As long as we are alive, we should be choosing the lives we live. It's never too late to start over, be happy, fall in love, give up your prejudices, or dare to try something new.
No matter who you are, how old you are, or your level of success, it is never too late to make the choice to be who you are meant to be. Don't be afraid to make changes. Don't be afraid to make an attempt to achieve your goals.
Within the chapters of this book, 28 authors tell their stories and share the lessons they have learned. Their enlightened knowledge can serve as inspiration for finding your own path to the understanding that it is never too late.
Read more about the contributing authors and chapter excerpts by clicking on their names below:
---
Anthony Burnside
I attended Westport Sr. High school during my 9th grade year. I remember well, it was a red-letter day in my life, that I believe to this day, placed me on a very positive path. I had what some would call a…problem with authority. I was a bundle of energy that sometimes manifested itself negatively in the form of a class clown. I was in the school drama club, but my talents didn't confine themselves to the stage, I managed to make jokes and attract attention to myself in class, taking away from the lesson. What this eventually resulted in was a nice collection of conference cards…nine to be exact, which were disciplinary cards we had to turn into the office and then the administrators would later have a talk with your parents. I accumulated nine all conference cards in a two week period (that has to be a record somewhere).

Chapter Excerpt: My Life Choice Of Being A Guardian Of The Gods
Anthony Burnside is the CEO and owner of Roningroup Consulting Inc. and has over 20 years of experience in law enforcement as a bodyguard and Deputy Sheriff, Due to this background, Anthony has frequently been called to consult for television projects and also called to speak at seminars. His commercials have been seen nationwide; his most recent television commercial was for the "Crime Scene Investigator" series for the Florida Metropolitan University C.S.I. Program where he portrays a lead C.S.I.
Anthony recently conducted protection and tactical operations at the S.S.I. Conference at the prestigious U.S. Army War College for a former White House official and the United States Air Force Academy. Anthony also has provided elite VIP protection for major celebrities at the 68th Annual Golden Globe Awards and the 38th Annual American Music Awards. He is a yearly part of the 300 person protection team (including L.A.P.D, Los Angeles SWAT and F.B.I.) to provide protection for celebrities, foreign dignitaries and other V.I.P.s at the 49th, 50th, 52nd, and 53rd Annual Grammy Awards shows televised live around the world from Los Angeles.
---
Ayesha L. H. Glover
Choosing love means forgiving someone who has hurt you deeply; not passing judgment on someone caught in sin; loving yourself through your imperfections; being the first to say, "I'm sorry"; listening when you are too tired to care; serving someone whose is destitute; holding the door for someone; sharing your sandwich with a stranger; thinking of someone else's needs before your own. There are so many ways to show and express love to others, each one of them is a way of choosing the Lord.

As I look back on my life, I wish I had really chosen God after Cat¬echism class in middle school, or when I was baptized at age 15, or after my first abortion when I was 16. To my regret, I chose Ayesha after each of those times and continued to choose selfishly for years later.

Chapter Excerpt: It's Never Too Late To Choose Love
Ayesha LaNique Harris Glover is a Pro­fessional Speaker, Author, and Trainer. Ayesha speaks passionately about self-empowerment, confidence, self-esteem, personal presenta­tion, utilizing your talents, and embracing your divinity. She considers herself blessed and highly favored by the Lord, whom she seeks to honor by helping women realize their value and self-worth.
Ayesha has a Bachelor's Degree in Hotel Management and a Master's Degree in Educational Leadership both from the University of Nevada, Las Vegas. She has been a business owner since 2003 and continues her efforts to empower women and young girls through speaking engagements, seminars, and training workshops. Her personal goals are to continue writing and inspiring women to reach their full potential.
Raised in San Francisco, California, Ayesha moved to Nevada to attend college, and is married with two daughters. She has lived in the Las Vegas area with her family for more than twenty years.
---
Charlotte Foust
I made the most of the time I had with Dad. I treasure that time and the things I learned about him. When he took his final breath, I was there, holding him in my arms.

Even though he's s gone, I continue to learn more about him every day. Little things he said, come back to me. I understand now what he meant by "war changes a man." I know now he had dreams and plans which were interrupted by war. I know that he drank because he could not forgive himself for the things he had done. He was angry and afraid. He was a man who came home from war in a time when men were expected to lay down their guns and go back to being the men they were before they picked them up, without counseling or help.

Chapter Excerpt: I Never Knew
Charlotte Foust's career as a dancer led her to make Las Vegas her home in 1967. Before becoming executive assistant to a motivational speaker and author, the twists and turns of life took her through successful careers not only as a dancer, but also in sales and marketing, cosmetology, and the title and escrow industry.
As the owner/director of a ballroom dance studio, she developed a program of creative and therapeutic dance for the intellectually challenged community of Las Vegas. She has enjoyed countless hours volunteering with Special Olympics, Children's Miracle Network, and numerous local Las Vegas organizations. Driven by the desire to find balance and harmony, she pursued spiritual studies throughout her journey, finally putting her on a path toward the ministry. Charlotte currently serves as minister of Unity Church of Las Vegas.
---
Cindi R. Maciolek
I wanted to be a writer. A good writer. A famous writer. A limo-driven, talk show-guest, household-name sort of writer. I thought it a glorious and magical profession. I wasn't sure what I wanted to write, but I knew I had to do it.


I started practicing my letters – and my words – around the age of four. While the family was out to work or attending school, I would spend hours honing my alphabet skills, knowing if I could get the letters right, it would be easier to create what I wanted to say.

Chapter Excerpt: It's Never Too Late to Discover who You Really Are
Cindi Maciolek is a writer and business consultant, helping small to mid-sized companies with everything from strategic planning to marketing activities.
Her writing focus is on books, CDs, screenplays and sharing those lessons, experiences and ideas with others.
Her recently released book, Divatiel: Reflections of A Bird's Companion, is the true story of life with a diva-tastic cockatiel, a story any animal lover would enjoy.
Java Jems: 5 Minute Inspirations for Busy People, is both a book and CD, a unique combination of spoken word and original music. Her first book, The Basics of Buying Art, is sold out. There's more to come. Stay tuned!
Cindi was also a contributing writer for The Robb Report and Luxury Las Vegas for many years and had articles published by Delta Sky Magazine.
Her travels have taken her to 23 countries in North America, Europe and Asia.
---
Courtney Anderson
Life is subject to events within our control (what we eat, how much we exercise, if we abuse drugs or alcohol, etc.) and events outside of our control (hurricanes, earthquakes, criminals, disease, etc.). As I don't have any idea how much longer I am going to live, I don't put off taking action today. If I put off the action with a plan to engage in it later, when that time comes around, I may not be living any longer.

How many times have we tried in small ways to "go back?" We reveled in the memory of that restaurant, yet, when we went back again, it didn't match the experience seared in our memory and we were disappointed. We snuggled in the warmth of the memory of the childhood home and later, when we returned to that house, it was smaller than we remembered and we realized we did not belong there anymore.

Chapter Excerpt: The Joyful Art of Business™
Courtney Anderson, JD, MBA, "the work­place relationship expert," TM practices the "Joyful Art of Business"TM around the world! Ms. Anderson is an attorney, author, inde­pendent hearing examiner (administrative law judge), internationally renowned business strat­egist, keynote speaker, professor and television legal analyst. A globally recognized expert, her numerous media appearances include CNN HLN, BusinessWeek, CNN International, The Wall Street Journal Radio Network, FOX News, The Huffington Post, MSNBC, The Christian Science Monitor, USA Today and many other media outlets.

Anderson is a "2011 Strategic Leadership Award" recipient (World HRD Congress in Mumbai, India), a multiyear nominee (2009 – 2011) for a "Top 5 Speaker" award and is listed as one of "America's Top Women Motivators."
Currently, she is an Associate Professor in The Graduate School at the University of Maryland University College. She received the 2012 Univer­sity of Maryland University College Teaching Recognition Award for the graduate school. Ms. Anderson holds a Bachelor of Arts (BA) degree from the University of Texas, Austin, a Doctor of Jurisprudence (JD) from The University of Texas School of Law and a Master of Business Administra­tion (MBA) from the Texas A&M University system (Tarleton State).
---
Delores Ramsay-McLaughlin
I realized sometimes we have to lose a battle to regain freedom within. The loss enables us to evaluate what happened, how it happened and the lesson learned. Understanding the significance of loss can allow each of us to become more accepting, value the individuals involved and have a sense of forgiveness and understanding. This in turn, changes the way in which we feel compelled to shut out other options when regaining ourselves. This process requires releasing the fear of relinquishing power, transparency 200 Life and humility in surrendering ourselves to the good of mankind. In order to benefit from loss, we must communicate, collaborate and choose new strategies for success.

Chapter Excerpt: The Lost Battle
Delores Ramsey McLaughlin is a motiva¬tional speaker who can inspire audiences from corporate to faith based. She has a gift of making the most serious topics become less intimidat¬ing and more accepting. The founder & execu¬tive director of "All Out Communication" and "Freedom-N-Christ Ministries" where she is the Senior Minister. Delores teaches effective communication and leadership skills, strategies to successfully pursue your dreams and how to bridge gaps between cultural and religious differences. Delores passion lies in communicating on all levels to maintain effective communication. She has a Bachelor's degree in Communication, Master's in Leadership and is pursuing her Doctorate in Organizational Leadership & Develop¬ment. She also enjoys professional membership with the National Speaker's Association.
---
Gina Ratcliff
After a 6 hour glucose tolerance test and blood work, the doctor came back with the results, severe hypoglycemia. He explained if I didn't improve my diet, I would end up with diabetes. His advice was to have a cup of coffee with cream and sugar in the morning and then NO sugar for the rest of the day. That was it! Being raised in a home where homemade cakes and cookies were always available, I thought I had been sentenced to death! NO sugar?? The next day brought a new commitment to improve my health and eating habits. I drank my morning cup of coffee which gave me the sugar rush I was familiar with; but also the sugar crash 20 minutes later. After a couple of weeks of this insanity, I realized there had to be a better way.

I've always enjoyed a challenge and loved digging in and trying to figure out how to fix a problem. I thought, "Here we go, Gina. It's time to get out there and figure this out." The only problem was….where to go?

Chapter Excerpt: Return to Wholeness
Gina Ratcliff has always had a passion for health and nutrition, She has had a vari¬ety of careers, including a nutritional counselor a facilitator for a Mindful Eating program a Life Skills educator, a natural food chef and has owned a whole foods restaurant. She is also a Certified Rapid Eye Technician.
Gina has had great success in facilitating others and loves seeing the change in their lives for the better through education on healthy eating. She believes recognition of the inseparable connection of our mind, body and spirit is essential in coming to a place of heath and healing.
---
Jack Rolfe
Each of us has an inner passion. I suggest to you that this inner pas¬sion is your mission in life and was planted in your heart and soul for you to find. The challenge is we often hear the promptings to act, but seldom find the courage to do so. If I had ignored my promptings, I would have missed all the glorious experiences I have had because of the School of Life Foundation. Once we start down our paths, we will hit roadblocks, barriers, and sometimes convince ourselves it is too late! When we find ourselves entertaining discouraging thoughts, we must not let go. When we find our missions and start living our dreams, we are then able to perform with passion because we have found something we love and have been given the talents to accomplish.

Chapter Excerpt: Find Your Mission
Jack Rolfe is the Founder and President of the School of Life Foundation. This organiza¬tion is touching the lives of thousands of people throughout the United States and thirteen other countries. The principles of the foundation are based on Jack's book, Learn to "School" Your Toughest Opponent. The formula contained in this book is the "Straight A's in Life" system. The program's steps were inspired by Jack's experi¬ences working in two careers: practicing as a physical therapist with the senior population and coaching girls' basketball in little leagues, middle and high schools, Association of American Uni¬versities teams, and college and Women's National Basketball Association camps.
The lessons learned became valuable tools which he imparts to his audiences. Jack holds a B.S. in Physical Therapy from the University of Utah and is currently pursuing a Master's of Nonprofit Administration degree at the University of Notre Dame. Jack is married with five children and six grandchildren.
---
Jasmine Freeman
I have learned many things in my life from my wonderful grandparents. Most recently, what I have learned from Grandpa Fuzz has kept me up at night pondering many things. One of those things is that when you die, (and guess what, we all will) it's too late to change your legacy. The experience Grandpa Fuzz had with death is rare. Very few get that second chance at life. Next, as long as you are here, it's never too late to change yourself. You see, it's you who can choose to smile, forgive someone, ask for forgiveness, love, enjoy the moment, build your legacy to be what you want it to be, take action to lose those extra few pounds, etc. Whatever is challenging you today, know you have the strength within you to take action and move forward. You have are the sole person responsible for crafting your legacy.

Chapter Excerpt: Follow Me
It's never too late to take your life by the horns and mold it into what you always dreamed it could be. After making her own mistakes and overcoming difficult times Jasmine has found there is more to life than waiting for good things to happen to you. Jasmine is a firm believer in living your life now! This is the one chance you've got at it. Jasmine spends her days working as an integral part of the Office Dynamics team. Office Dynamics is a training and development company based in Las Vegas, Nevada focusing on the professional development of administrative assistants. Jasmine also enjoys spending time with her husband Dave, and their four children exploring the Las Vegas Valley and living life to the fullest!
---
JoAnn Oppenheimer
My generation of "Good Girls"... the ones who didn't have sex before marriage, produced many young ladies who did what was expected by their own local community… obtained their educations, married young, and raised families, and not necessarily in that order. Most of my friends had cookie cutter lives. I did, to a point, except that I worked through all of these stages, never taking more than a couple of weeks off per year. Nothing has changed. As a Grandmother, I am still working full-time, only taking time off for occasional vacations.

Chapter Excerpt: "Til Death Do Us Part"
JoAnn Oppenheimer is a Widow, Mother, Grandmother, Realtor®, Entrepreneur, Author and Coach. She was born and raised in Kansas City, Missouri, the youngest of six children. She began her sales career at 15 years of age, which still continues today. After graduating from college, she formed her own successful Advertising Specialties Company. Developing people skills has been the foundation of her success story. She has served on many community, religious, and political boards. Giving back to her community and society is very important to her. She has no interest in retirement. To have goals, be productive and to help others is JoAnn's way of life.
Ten months after my husband's death, I was introduced to a kind, caring and loving widower, whose wife of many years, passed away six months before my husband did. After a slow and cautious beginning, we realized that our mates were not coming back, and we let our ten foot tall walls down. He is retired and lives in his own home, which is in the same Senior Community that I live in. We have a tranquil and loving monogamous relationship. We enjoy a wonderful social life and cruising. Do we want marriage? No, we are contented the way it is!
---
Joan Peck
What had I done with my life? I had been the consummate "people pleaser" when I was younger and had only recently change some of those habits in my 50s and many more in my 60s. Hadn't I been like so many women trying to fit into the mold society dictated was proper? Hadn't I felt the pressure of following all the fashion trends, trying to look like the models in magazines and finding it impossible? Hadn't I lived with the fact that being both mother and father to my children was hopeless? Hadn't I plodded along working all those jobs just to survive? I had grown up with the idea that everyone else came first in my life, and if not, I was being selfish. Where was me…my true self?

Chapter Excerpt: Three Important Lessons I Learned From My Dog
Joan S Peck is the author of "The Seven Major Chakras – Keeping it Simple," "A Simple Approach to Living a Successful Life," and a featured author in "Life Choices – Putting the Pieces Together," as well as "What You Need to Know to Live a Spiritual Life." She is a speaker and workshop facilitator, sharing how under¬standing the chakras and their energies can take the struggle out of everyday living, and often comments, "Life the Chakras – smooth our your ride in life!"
Joan's passion is writing and editing. Ever since she was a child, she dreamed of writing but always put it off, thinking that "working" and supporting herself was the most important thing she could do. She has learned that living your passion is the most joyful thing you can do, and doing something you live brings all the best results.
Joan resides with her dog, Sweet Pea, in Henderson, Nevada.
---
Judi Moreo
If you had all the money you would need, all the time it would take, and you knew you absolutely couldn't fail, what would you do? Who would you do it with? Where would you go? What would you have? What would you want to be? In other words, what goals would you set for yourself, if you knew you couldn't fail? Deciding all these things is what I call vision-setting. If the world was perfect and money was no object, this is the picture you hold in your mind of who and what you would be, what you would do and have, and where you would go.

In vision-setting, we put this picture in our minds as though it is happening to us right now. We hold it there. If you will do this, your subconscious mind will find a way to make these things happen, in spite of the facts that the world isn't perfect and money may be an issue.

There are many people in the world who have great talents and still haven't succeeded. Talent is not the essential ingredient for getting what you want or becoming the person you want to be. Talent helps, but you and I both know talented people who don't use their talents to better their lives.

Chapter Excerpt: Choose Your Future
Judi Moreo is a certified speaking profes¬sional. Less than 10% of the speakers in the world hold this prestigious certification. She has presented keynote speeches, workshops, and seminars in twenty-seven countries on four continents.
Judi is an accomplished author with nine books to her credit including "Conquer the Brain Drain: 52 Creative Ways to Pump Up Productiv¬ity", "Ignite the Spark," "Delivering Exceptional Customer Service" and her bestselling, "You Are More Than Enough" and its companion, "Achievement Journal." In addition, Judi is the CEO of Turning Point International and publisher of the "Life Choices" book series. Her superb talent in discovering and developing potential in others has gained her a prestigious coaching clientele.
Judi coaches and men¬tors speakers, writers, executives, models, beauty contestants, and those who want to improve their skills to have more success in their lives. Her passion for living an extraordinary life is mirrored in her zeal for helping others realize their goals. With her dynamic personality and style, she has become an unforgettable speaker and inspiring motivator.
---
Kevin B. Parsons
Life killed the dream. That's how it looked, anyway. Dating morphed into marriage which begat parenthood. The job, church and soccer practices elbowed their way to the forefront of our lives, and the dream of traveling the country with the wind in our hair disappeared. Decades passed and the trip faded back further than my hairline.

Thirty years later, something changed. I made it a goal. In October of 2000, I wrote ten goals which I wanted to achieve. I printed copies, laminated them and placed them in strategic places; in my wallet, on the bathroom mirror, and at my desk. Now, instead of dreaming occasionally, I could look at them, focus on them and one by one, achieve them.

Chapter Excerpt: A Dead Dream or A Savings Account
Kevin wrote and published Ken Johnson and Roxi the Rocker, a children's book available on his website. He's tested products and written reviews for American Motorcyclist magazine. He is also a contributing writer to Seeking God First, an anthology of devotions, and Life Choices: Pursuing Your Passion.
Kevin is a member of the Henderson Writers Group and American Christian Fiction Writers. He has also been a member of Toastmasters International since 2006. Kevin has owned several businesses in the construction and real estate industries, since 1973. He lives in Henderson, Nevada with his patient wife Sherri. He rides motorcycles often and appreciates remaining upright.
---
Lloyd Palm
Until August 10th 2007, my eating habits had included the standard tasty foods of the American diet, lots of meat and cheese, and a gallon of milk a week. I loved pizza. My favorites included ice cream every week, and 8-10 cans of Pepsi a day in the summer. Finally, I stopped these bad habits and have not touched junk food since.

I knew I had to give healthier living a try if I was to save my life. There would be no excuses. There would be no more little bits of this. No more, "a little bit won't hurt." This can't be your attitude. If it is, you are defeated before you begin. I was on a mission to save my own life. It is just plain stupid to think it is okay to bend the rules. The successful result of excellent health allows us to enjoy a quality of life that will be beautiful for the rest of our lives.

Chapter Excerpt: My Journey to Rewarding Health
Lloyd Palm is the owner/operator of Lloyd L. Palm Construction, the largest gravel pit and rock crushing company in North Central Washington. At the age of 10 he was already a hard working entrepreneur, cutting and selling firewood for $10.00 a cord. Hard work and wise investment led him to a successful career as a Washington State General Contractor, working in heavy earthmoving, roads, sewer and water systems.
Lloyd used his experience and expertise in road construction to help develop the first prototype pollution free asphalt plants that have been used worldwide since 1970. He was also instrumental in redesigning a rock crushing machine, eliminating engineering flaws and enabling the company to double their sales.
While he has enjoyed working hard all his life, he marks raising his three boys to successful adulthood his greatest achievement.
---
Mack Jackson Jr.
When you think of money, don't think about the paper dollars for which you worked hard and now carry in your wallet. Think instead that each dollar is an employee who works for you. I call them "money employees". When you are financially fit, your "money employees" work hard for you. This will become a "smarter and not harder" life style. When your money works correctly for you, you will produce high dividends of return. Sometimes we don't allow our "money employees" to work for us. Sometimes they work against us. For example, if you spent your "money employees" at popular coffee shops at the rate of $5.00 a cup, 2 cups a day, five days a week, for a year, that is $2500. Just imagine if instead you put your "money employees" to work for that year. They could work 24/7, no holidays, no sick days and be loyal to you.

Chapter Excerpt: Get Financially Fit
Mack Jackson, Jr. is the owner of MJ Computer Concepts, Inc., a business software accounting firm. Since 1984, Mack Jackson, Jr. has presented programs worldwide on com¬puter technology, e-commerce law, accounting software, cyber-crimes and security compliance. Mack has helped businesses and individu-als develop business plans, financial goals and organize their financial records with business accounting software.
Mack has a background in business, accounting, finance, cyber law, and security. He has a degree in Business Administration from the University of Phoenix and a Master's degree in Law from Thomas Jefferson School of Law. Mack is a member of the National Speakers Association and a board member of Las Vegas – NSA chapter NSA.
Mack will show you how to improve your financial situation in our struggling economy and keep the lifestyle you desire. He will inspire you to understand the steps to help you achieve financial fitness.
---
Mary Monaghan
I shivered, suddenly cold; it was as if I were reading a message from the grave. By writing my story, I was indeed "being true to myself". My book was going to be my story...pure and simple, with no recriminations, no bitterness: just simply a record of how life had been for me and how I had overcome the obstacles put in my way. My mother had given me self-confidence, the ability to understand that I was indeed as good as anyone else and that no matter what hand I was dealt I would survive. I would rebuild a new life, different perhaps, but a good life nonetheless.

Chapter Excerpt: "Green Are The Hills Far Away"
survival and new beginnings, now also adapted into a screenplay. 'Where is John?' This is the question that haunts Mary as the date for her husband's return from a three-month walk-about in Australia passes without his making any contact. In her book Mary takes us on a journey from meeting her husband John in the Irish community in London, to following her love to Johannesburg in the tumultuous Apartheid years where they start a life together. Mary discovers that John's business has failed and not only has he disappeared but he has left her nearly penniless with substantial debts.
After years of not hearing from him, attempting to trace him through Interpol and private investigators, hanging on to hope in an era of uncertainty both political and personal, the mystery of his disappearance is revealed. 'Remember Me?' is a poignant story of Mary surviving her past and finding a new life in a cottage by the sea. Mary was a contributor to 'Writing the Self', an anthology of Women's Writing and is currently busy with her second book 'Who do you belong to?' which reveals an unexpected twist in her story. It is due for publication in 2010. She lives in Cape Town, South Africa and travels frequently to Europe and the United States.
As well as being a successful writer she is a speaker and change management consultant. . She has a passion for helping people develop themselves to be the very best they can be. She loves to travel and experience new cultures and recently spent a year on assignment in Madagascar.
---
Nancy Haller
It is challenging to have a difficulty and keep it a secret. People notice even when you don't think they will. I was afraid my skills would diminish and I would be replaced. I still experience terror that the world will find out about my imperfections and that will reduce others confidence in my ability to function so they may not accept me. "Work" is part the image we have of ourselves in the world and the image the world has of us.

There is much that we take for granted in our everyday lives. Brain injured, brain tired and brain fogged people assume that huge areas of daily brain function are working to maximum potential, even when they aren't.

Chapter Excerpt: Train Your Brain
Nancy Haller experienced a brain injury during surgery in 2000. It was over two years before she was diagnosed with "foreign accent syndrome" and the beginning of assessment began. Since her discovery, she has filled her time with brain training to recover her life.
Her professional training in the Felden¬krais Method prior to her brain damage was instrumental in her healing. She had spent years working with how the brain learns pat¬terns of movement an how new neuro-pathways are developed. The first step was recognition of the truth. Nancy looked the same: she continued to participate in her personal and professional life. There were places where blank spaces occurred, her speech was altered, and her memory banks were damaged. With a brain injury, she has completed a Master's degree, is a national continuing education provider, works in a private practice and has raised two daughters.
---
Nikki Pattinson
To leave this earth and not have finished the job I came to do would be like having lived in a kitchen where the cabinets had been crafted, the tiles were fitted around the sink…but the cupboard doors hadn't been added and no one had wired the oven up or plugged in the fridge.

The bigger the picture of your life you are colouring in, the more time and effort it takes…and there's no point in getting frustrated with it. You can finish faster but it won't be as good.

My mum and dad were farmers in the hills above Holmfirth, the famous and beautiful Yorkshire town where the longest running series the BBC ever produced … 'last of the summer wine'' was filmed. In their day you got married, knocked out 2 kids, paid off the small mortgage and well…..died. That was probably a generational thing, the ambition was to 'marry well''…marry your own kind or better... There was no room for expression, dreams as we are now privileged to know them – if you had an idea or was slightly different there was no-one to tell. If you were different you kept it to yourself.

Chapter Excerpt: Calling All Elvis's – I'm Coming to the US
Nicky Pattinson took a market stall busi¬ness from £1500 a week to £50,000 a week, within 2 years – 23 years ago. Taking what she learned, modifying the concepts and reapplying them to businesses from law firms to T-shirt shops, adding many millions by often tripling sales over night, even in recent times have made her northern England's favorite lady speaker. Her story reads like a Hollywood blockbuster and her dry wit, humour, no negotiating with life demeanor and very unique presence will have you thinking an hour is a minute.
Let her show you how to sell three times what you currently do – of anything – and tell the world who you really are and take your place on the planet! '
---
Peter Shankland
Since time in memoriam, every tribe, clan, society and culture world¬wide, has cultivated a particular set of ideas and beliefs to help the members of these groups make sense of their surrounding world – to provide answers to the larger questions of life that we, as humans, tend to ask: Why am I here? What does life mean? Why does such beauty and joy co-exist with such pain and suffering?

For most of us, these ideas and beliefs take the form of an organized religion that our parents share with us from infancy. In the United States, the majority is baptized and communed into various branches of Christian¬ity. Around the world, the tenets of Hinduism, Islam, Buddhism, Jainism, and many more, sustain billions, becoming the dominant belief systems which guide followers, helping them make sense of their place in this world.

Chapter Excerpt: Success: Realizing A Spiritual Path
Born and raised in Buffalo, NY, Peter embarked on an unscripted, 18 year venture of world travel after attaining his Bachelors and Masters degrees in Speech Communication from SUNY Buffalo and Wake Forest Univer¬sity, respectively.
He has lived, taught and studied in Japan, Nepal, Hong Kong, and Sydney, Australia. Along the way, he explored different beliefs and perspectives addressing matters of body, mind and spirit, asking questions and seeking satisfactory answers to life's larger questions.
Peter currently resides in Las Vegas, Nevada, where he owns and oper¬ates "Ways to Health: Wellness Workshops and Weight Loss for Life." Peter's weekly wellness workshops provide infor¬mation and expertise on the many and varied ways to physical, emotional and spiritual health. He also promotes an extraordinary range of nutritional products by the world's most famous doctor, Dr. Deepak Chopra. See www.petershankland.biz for details about Zrii products.
---
Sandra Gore
The conditions were perfect for a green flash. Fog Monster hovered beyond the curve of the earth, somewhere on the way to Hawaii. The air was balmy for a California coastal evening. A glassy sea flowed like molten mercury to the edges of the horizon. Tiny white curls of surf rolled lazily onto the beach below, and then just as languidly sucked out fine leaden sand with each retreating wave.

I see that sunset in my mind's eye as clearly as if the fiery disk were sinking into the purple haze this very moment. It should have been perfect and I should have been content. By any measurable standard, this was as close to paradise as one gets on this crazy, teeming planet. But instead I asked, "Is this all there is? Will I sit on this bench and watch the sunset each night until I die?"

Chapter Excerpt: Road to Vegas: Journey to a New Me
Born with wanderlust, forever living in a fantasy world, Sandra Gore escaped the prai¬ries of Kansas and followed the yellow brick road on a 25 year odyssey that took her to Europe, Africa, Latin America and the Middle East. Starting with a one-way ticket to Iceland, Sandra returned with a Viking husband, an art degree and speaking five languages. She and her husband have two adult children and divide their time between a California beach house and a Las Vegas condo.
---
Sandy Kastel
"I was walking alone on a wide dirt path lined with towering pine trees glaring down at me. It was cold, dark, damp and the night air whispered words I didn't understand, yet I wasn't afraid. The forest at night was full of shadows, slivers of moonbeams barely able to slip through the thick, twisted branches. I approached the gate framed by two walls of stone with no end in sight on either side. I looked upwards to the black sky and saw the moon peaking over the top of the gate, centered in a ring of smoke. My hand reached up to the handle and the gate opened wide, welcoming me. I took two steps forward and the gate slammed shut, lightening flashed and thunder pierced my ears."

Chapter Excerpt: The Mentoring Mirror: The Diamonds Hidden In Your Dreams
A singer and songwriter, Sandy Kastel has recorded albums, performed in film and television and licensed her songs worldwide. She has produced events, television specials, documentaries, independent films and music videos through her production company, SKS Sights and Sounds, Inc. As Miss Nevada, Sandy was the first non-classical talent award winner in the Miss America Pageant. She received a standing ovation from 50,000 people after singing "my Man," and continues performances around the world.
The founder of Women In Music and Arts Foundation, Sandy is passionate about empowering artists of all ages through education and mentorship.
---
Sarah Kipp
I was 23 years old and felt I was in the trenches. I had lived 23 years doing EVERY single thing that was asked of me. I was very active in church - never denied a calling - attended all the activities - attended church every Sunday. I worked tirelessly trying to be as close to perfect as I could possibly, HUMANLY, achieve. I excelled in high school and college - played on every soccer league I could squeeze into my schedule - had a good relationship with my parents and family and would do anything to spend time with my nieces. On the surface, I was the "model" daughter, student, athlete, friend, Mormon, etc...However, between 23 and 24 years old, I began sinking. I was a buoy, bobbing around in this vast ocean of truth and beauty. I slowly lost touch with the spirit, I began losing that uplifting buoyancy and lost sight of the surface and the horizon, subtly sinking into the darkness below.

Chapter Excerpt: The Armor of God: Finding The Truth In Life
Sarah Kipp is an author, residing in Hen¬derson, Nevada. She has numerous poetry pieces which have been published, as well as the story of her struggle with an eating disorder. Sarah regularly contributes to her blog, sarahlovesred.blogspot.com, and coaches people who suffer from eating disorder.
Through the study of psychology, Sarah has learned how to tap into her experiences and the wisdom gained from them in order help people through their life struggles and battles. She relies on the guidance of her Savior to reach out to those in need and does so effortlessly and willingly as she acknowledges the sacrifices Christ has made for us all.
Her hobbies include writing, playing soccer, dancing, laughing and spending time with family. Currently, Sarah is a middle school English teacher and soccer coach in Las Vegas, Nevada.
A contributing author in the Life Choices series, Sandy has created empowering Women Workshops inspired by her own experiences and life choices.
---
Scott Pritchard
It's never too late to touch someone even after you are gone. Cheryl Kremer made her transition May 18th, 1980, yet she continues to touch lives. She touched me and by sharing her story to the world, I am, through Cheryl, touching many, many people.

Every year I speak at Valley High School in Elgen, Iowa, the school from which Cheryl graduated, and I donate a scholarship to one senior who best represents the spirit of Cheryl Kremer. It is my hope that this scholarship will serve as a never ending reminder that Cheryl was right when she said, "A touch can do so much."

Chapter Excerpt: "A Touch Can Do So Much"
In 2011, during the World Championship of Public Speaking, a 6-month competition against 35,000 contestants, Scott Pritchard placed 3rd. In addition to speaking to audiences around the world, he is a stand up comic and hosts the weekend comedy show Planet Hollywood on the Las Vegas strip. Scott has been the opening act for such headliners as Louie Anderson and Lorrie Morgan and was recently featured in an article in the New York Times .
---
Skye Balloo
I couldn't wait to start boarding school. I hoped I'd be able to run from my mind. I imagined my housemates would be just like me, but I was in for a surprise. I epitomized all they despised. I knew this for sure a couple of days after I arrived and went to join them playing. "I've come to play" Bex walked towards me. "We don't want you," she said I was stunned. There were no words. They didn't want me. It was true. They looked blank or away. I turned quickly before the tears poured help¬lessly out of me. I couldn't let them see me cry. I wanted to drop to my knees and scream with the pain, but I had to keep walking down the gentle slope in case they were watching. I didn't know what to do, who to talk to, or where to go. There was no one, and that was it for 7 years.

Chapter Excerpt: We Can Change What We Attract
Skye Baloo is proof that no matter what you start, you can succeed and achieve all you ever dreamed of in this life. Through hard work and determination, Skye lifted herself up from the gutter to a beautiful life in an ocean front home. Along the way, she travelled extensively, built up successful property companies and an inter¬national antiques business. Skye is a licensed psychotherapist, working with disadvantaged children, women in need and maintaining a busy private practice.
The premature death of her husband led Skye to let go of all she'd ever known, and follow her greatest instincts and pursue her wildest dreams. She even took time out from her busy life to research and write in the field of motivation, inspiration and personal development, and has just completed her first book, "What Would You Do If You Knew You Couldn't Fail?"
---
Stacey Escalante
Wildfires raged all over Southern Nevada. A US spy plane crashed overnight. Jennifer Holloway, the Runaway Bride, became an instant celebrity and, locally, Henderson police had another officer-involved shooting.

It was 10 a.m. My assignment: the officer-involved shooting. My biggest worry was I couldn't be able to go live on the 6 o'clock newscast. I was solo parenting that week and I needed to pick up my two kids from daycare. Will was just over two and Gabriella was only six months old at the time. My husband, Matt, a photojournalist at the same television station, had left that morning for a business trip in San Antonio, Texas.

Time to set up my interviews for the day. My cell phone rang. Breaking news... but not the kind you expect in a newsroom. "Stacey, This is Darren, the physician's assistant from Woodson Dermatology. The pathology from the biopsy came back and it's positive. You have malignant melanoma. Do you know what that means?"

Chapter Excerpt: It's Never Too Late to take Your Health Into Your Own Hands
Stacey Escalante is the founder and CEO of Escalante Media Management, a boutique public relations firm specializing in the promotion of authors, speakers and experts. States Escalante, "I represent thought leaders in a variety of categories, but all with the common mission of contributing solutions to problems which people face every day."
Prior to founding her PR firm, Stacey spent 16 years as a broadcast journalist. She started her broadcasting career as an apprentice at KABC-TV in Los Angeles and was soon promoted to production assistant. Her first on-camera job was as a general assignment reporter at the CBS affiliate in Medford, Oregon. Following her tenure in Oregon, she spent 10 years as a general assignment reporter at KVBC-TV, the NBC affiliate in Las Vegas, Nevada. Covering such diverse topics as presidential visits, community growth, education, crime, and the environment, Stacey won the coveted "Reporter of the Year Award" in Southern Nevada two years in a row.
A Stage 3 melanoma survivor, Stacey is on a mission to save lives by educating others about skin cancer prevention. She travels to Washington DC annually to lobby on Capitol Hill on behalf of the American Cancer Society's Cancer Action Network and also represents the 3rd Congressional District of Nevada. An inspired speaker and soon-to-be author, Stacey's passion and informed perspective make her a sought-after lecturer on health and wellness and women's issues.
---
Stuart Haskin
Embracing Your Life is about the personal empowerment and awareness which leads to safety. When you embrace your life, endless possibilities become available to you! A fully embraced life rides on two key concepts: being strong and being safe. When I say "strong" I don't mean I am going to put you on a power-lifting regimen and suggest you gain 100 pounds of muscle mass. Instead, being strong, by my definition, means knowing how to walk around a situation, or if you walk into a situation, knowing which tools you need in order to protect your personal security and safety. Being safe means using those tools in the moment…when you need them. I have worked with survivors over the years who navigated out of danger¬ous situations by sheer strength of will and from then on, continued to embrace new challenges in life. You have four natural weapons at your disposal that you can use to be strong and safe: your mind, voice, body, and—especially—your spirit.

Chapter Excerpt: Embracing Your Life: The Path to a Stronger, Freer and Safer You
Stuart Haskin has taught thousands of people how to live safer lives. From survivors of violence and sexual assault to special-needs children and adults, Stuart uses humor com­bined with innovative teaching, counseling, and martial arts techniques to make it possible for people to live violence-free lives.

An expert on personal safety, Stuart has been helping people build stronger, safer lives for more than 25 years. Through his book, The Gift of Freedom – A Stronger, Safer You, and his speaking engagements, Stuart shows his students how to incorporate his simple and powerful S-A-F-E system (Scan – Assess – Forecast – Execute) into daily life.
Stuart has worked closely with law enforcement agencies, military per­sonnel, teachers, students, men, and women from all walks of life helping them achieve freedom from fear by embracing their inner strengths. Stuart interacts with his audiences on emotional, cognitive, and physical
---
Sue Bracksieck
One can focus intensively only for so long, and then the mind must take a break. My eyes drifted around the boarding area, and I made eye contact with a man across the aisle. (The little voice inside my head: Oh, no! Okay, smile - because Momma taught you to be polite - and then immediately drop your eyes.) I smiled and then immediately dropped my eyes, but he spoke to me. (The little voice inside my head: Momma taught you to be polite. It's okay just to acknowledge the greeting and no more.)

"Hi," I said, and then my eyes focused back down on the carpet at my feet, and my mind began praying. Really praying because I did not want to converse with this man. I didn't think of myself as a snob, but his clothes were outlandish!

Chapter Excerpt: Look Past First Impressions
SueB Bracksieck, CEO of P.R.O.G.R.A.M.s, has provided management skills and leadership training around the globe for business, govern¬ment, and educational youth organizations for over twenty-five years.
SueB's life motto is "Aerodynamically, the bumblebee defies the laws of science...it flies. The impossible is Possible! It's only your thinking that makes it seem impossible!"
She believes and teaches that leaders must have a healthy disregard for the impossible. They must know they can change their worlds, and bring their visions to life. They must know how to share their visions with others, how to build teams committed to turning dreams into realities, and how to find and use resources and tools necessary to produce desired results. Her workshops assist participants in clarifying personal values and standards through training modules which allow par¬ticipants to discover new insights, to sharpen leadership and management skills, improve working relationships and build more effective teams.
---
Tim Goodenough
I was the third of three boys, with a gap between me and my brothers, such that I was always trying to be older - trying to fit in with an older crowd, a trait that still surfaces from time to time today. I had severe allergies as a child; I was allergic to numerous medicines and food groups including anything with sugar or dairy as well as being severely asthmatic. The aller¬gies in particular dictated that a natural segregation occurred between me and children my age, simply because socially I couldn't participate fully. I was not able to eat my friends' birthday cake or sweets. These conditions started a process that led me to become incredibly curious about people – what drives their behaviour? Why are they like they are? And how can I understand them?

I was very fortunate to have this kind of developmental mindset early on, I got to observe and try to understand people from childhood. I was watching and learning before, during and after sophisticated personalities emerged and these insights and instincts have become an important part of my job and life.

Chapter Excerpt: Learn How To Learn
Tim Goodenough is one of a dozen coaches around the world to hold the advanced Profes­sional Certified Meta-Coach (PCMC) quali­fication. He also holds a trainers qualification in both NLP and Neuro-Semantics. Tim is part of the Neuro-Semantic Global leader­ship team which leads 280 NLP/NS Train­ers and 1200 Coaches in over 37 countries.
Tim specializes in high performance, both in the corporate world and the world of elite athletes. Tim was the mental coach for The Sharks during their 2008 Super 14 rugby campaign. More recently, he has worked with the South African Men's and Women's Field hockey teams and the Irish Men's and Women's field hockey teams. Tim lectures on mental toughness at The Sharks Academy and the Investec International Rugby Academy as well as for Cricket South Africa. In 2007, Tim co-wrote "In the Zone" with South Africa's sports heroes (2007: Zebra) and in 2009, he co-authored a book on working with teams entitled, "Team Coaching: Artists at Work" (2009: Penguin) a collection of strategies and models for working as a team coach in different environments. His latest book is "Raising Talent: How to Turn Potential into Performance," released in 2012.
---