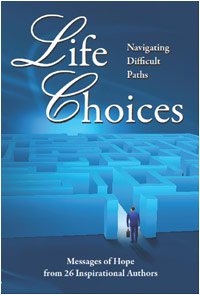 $24.95
This empowering collection of stories reminds us that we all have choices, and the choices we make are what determine the course of our lives. The authors of these stories are real people who have reached into the depths of their souls to share their inspiring journeys when navigating the difficult paths of their lives. These extraordinary people have persevered against the odds and made choices that enabled them to achieve successful lives. Through their experiences, we can find many important lessons to help us avoid wrong turns and blind alleys. Their stories show us that we can overcome our challenges and live more satisfying, passion filled lives.
Read more about the contributing authors and chapter excerpts by clicking on their names below:
---
Aimee Riley
"I had nowhere to go but back to my family who couldn't provide for me before. Now I was coming back and bringing another mouth to feed as well. I can't tell you how many times I was told I couldn't make it. Most people around me told me to give my baby to my husband's family. I refused as I knew no one could take better care of her than me. I didn't know how I was going to do it, but I absolutely knew in my heart that I could..."
Chapter Excerpt: Finding My Purpose
Aimmee Riley is a middle-eastern Armenian woman, who authored Tears of Hope, an inspiring true story that recounts the many tragedies she faced while living through the Lebanese Civil War. Aimmee overcame obstacles and learned to stay focused by drawing on her inner strength and seeing opportunity in the enormous adversities she endured.
Today, Aimmee is a faculty speaker for iLearningGlobal.tv, which brings together the world's top educators, teachers, and speakers. Her passion for helping others drives her to continuously work on exciting projects which allow her to use her unique talent to give people hope and guide them to the realization that even during the most difficult times of their lives, they can have peace within their hearts and minds.
---
Andrea Chestnut
Everybody knew what was going on, but nobody spoke about it. Being female made me the center of attention for my father. Not in the loving, caring, protective sort of way little girls deserve to experience. My father was the one I needed protection from. When I was nine years old, I got up enough nerve to tell my mother what had been going on...
Chapter Excerpt: A Better Way to Live
Andrea Chestnut lives in Las Vegas, Nevada, a world beyond where she began. An expert in organization skills and time management, she owns Chestnut Unlimited, a company specializing in creating environments that inspire people where they live and work.
Andrea is surrounded with many friends from all walks of life near and far. Andrea appreciates being able to share her life story, speaking openly to groups and organizations. Her story of inspiration shows life can be more than your history.
---
Anne Abernathy
There were about twenty of us gathered beside the track. A luge coach standing up on the track wall asked anyone who wanted to try it to take a step forward. Immediately, eighteen people took a step back. There I stood, along with a lone fireman from Maryland. While we hadn't taken a step back, we hadn't actually stepped forward either. We slowly turned and looked at each other and said, "Why not?"
Chapter Excerpt: Why Not?
Anne Abernathy, nicknamed Grandma Luge, an unlikely, courageous athlete from the Virgin Islands overcame a series of hardships including cancer, head trauma, broken bones, fourteen knee surgeries, and even a hurricane that destroyed her home to become the first six-time female Winter Olympian.
She is the oldest woman to qualify for the Winter Olympics, setting records and breaking barriers along the way. In the 1992 Lillehammer Games, Anne became the first Olympian to create an online diary. During the Albertville Games, she was first to compete with a camera on board, a feat that earned an Emmy nomination. From the Pentagon to the House of Parliament to Fortune 500 companies, she is in demand as an enlightening and highly entertaining speaker. Her appearances include the Today Show, the Tonight Show, Good Morning America, MSNBC, Fox Sports Radio, and the Discovery Channel.
She's a Guinness world record holder whose passion, unique wit, and wisdom will inspire YOU to step up, find the fire within and just do it—why not?
---
Anne Dreyer
This was my first encounter with 'classes,' the have's and have not's … and my brother and I were warned NOT to go beyond the barriers of Second Class. First Class was strictly forbidden!
Chapter Excerpt: Class is A Choice
Anne Dreyer is a sought-after motivational speaker, author, and image coach who lives and teaches Coco Chanel's dictum. With her warm and stylish personality, Anne infects her audiences as she trains and inspires them from her personal life's experience as a successful businesswoman and entrepreneur. Nominated Business Woman of the Year 2008, Anne founded both Colourworks International, South Africa's first Makeover Salon, as well as the first Image Consultants Training Academy.
She is the founder and foreign ambassador of APICSA, the Association of Professional Image Consultants in South Africa, and a professional member of the Professional Speakers Association of South Africa. Anne, master image consultant and etiquette expert, knows and believes that every person can blossom where they are planted and can be irresistible forever!
---
Bob Walker
After what could have been no more than fifty feet, the tunnel narrowed dramatically until I could no longer swim. The tunnel had silted in and I had to crawl along the bottom. I moved slowly, searching ahead with the beam of my underwater light until the scuba tank on my back scraped the top of the tunnel and became tangled in rocks and sea plants...
Chapter Excerpt: What Was I Thinking? Confessions of an Avid Adventurer
Bob Walker is a man of high adventure who squeezes every drop of excitement from each day. He has been a salvage diver, Alaska fishing guide, lobster fisherman, skydiver, and performed fish feeding shows under Catalina Island's glass bottom boats. But he's not just an adventurer. Bob's been a CEO and now works with organizations to provide immediate practical solutions to management and team problems that involve communication, conflict, and ineffective performance. Bob teaches proven real-world strategies that can be used in the trenches, where the real work takes place.
Bob is a true problem solver. He has coached others to excellence and authored the book, Sink or Swim Problem Solving.
---
Charlotte Foust
No one would have thought such a minor incident would have had such a profound effect on a child. Some fifty-five years later, I can still see the sun reflecting off the new white paint. I can almost feel the breeze. In my darkest moments I can clearly hear the stern, commanding voice of the wrinkled old lady as she leaned into my face and said with a sneer, "You can't go in. You're much too small."
Chapter Excerpt: Invisible
Though her heart lives in the redwoods of northern California, Charlotte Foust's career as a dancer led her to make Las Vegas her home forty-two years ago.
Before becoming executive assistant to a motivational speaker and author, the twists and turns of life took her through successful careers not only as a dancer, but also in sales and marketing, cosmetology, and the title and escrow industry.
As the owner/director of a ballroom dance studio, she developed a program of creative and therapeutic dance for the intellectually challenged community of Las Vegas. She has enjoyed countless hours volunteering with Special Olympics, Children's Miracle Network, and numerous local Las Vegas organizations. Driven by the desire to find balance and harmony, she pursued spiritual studies throughout her journey, finally putting her on a path toward the ministry. Charlotte currently serves as associate minister of Unity Church of Las Vegas.
---
Dan Roberts
I was horrified. I gave a speech, a lecture on right and wrong, the rule of law, and the fairness of our situation. The audit was bogus, illegal, and strictly a grandstanding bureaucratic tactic. "We don't need a politician," I recall saying. "We need justice."
To my everlasting regret, I refused to make that campaign contribution. It was the biggest mistake in my life...
Chapter Excerpt: George, Martha, and I
Dan Roberts is the publisher and editor of The Vegas Voice, the most widely-read "Age 50+" monthly newspaper in Nevada. After moving to Las Vegas, Dan started the Medicare Advisory Foundation. This non-profit organization remains dedicated to representing and informing seniors of their Medicare and other health-related insurance benefits and rights.
In his previous life, Dan was an adjunct professor at Long Island University and was the general counsel and executive director for the New York State Ambulance Association, New York State Ambulette Association, and the New York State Medical Transportation Coalition.
Before his life collapsed in New York, he was president of an ambulance service that grew by over 200 percent and doubled the employee workforce within three years. Despite the ups and downs of his life, Dan is still happily married and devoted to his childhood sweetheart, Amy. They have four sons.
---
Deborah Clark
Personal loss and tragedy creates an entirely different set of circumstances, completely changing the picture of your world. My mother's death was such an event. Her death was the most devastating experience of my life. Of all the things I imagined about my life, I never thought she would not be here with me. I made the decision not to keep trying to kill myself after my mother died. I was not trying to slit my wrists, but I was participating in a series of events that had suicidal tendencies. I was developing a pattern of reckless behavior. I was making poor choices. I was so lost, I missed her so much, and I wanted to die...
Chapter Excerpt: There's a Story for That
As a niche professional speaker, Deborah Clark knows how to deliver programs that provide value to audiences. With a background in all aspects of meeting development, staff training, and event organization, she understands how to meet her clients' needs for a successful event. Her client list includes adult school/continuing education programs, professional associations, non-profit groups, and private clients. In addition to being a professional speaker, Deborah is an active community volunteer through Jersey Cares.
---
Dr. Casey McNeal
My purpose in this writing is not to tell you yet another story about how adversity ends in happiness. My purpose is to share with you the formula for creating your own successes. You are also a survivor. Everyone is a potential survivor. You may have a specific story (or stories) of survival, pain, loss, or love and heartbreak, or your story may be one of general survival ― the overall struggle associated with living in a troubled world, with loneliness, the search for the meaning and purpose of life, feeling overwhelmed and powerless, as though you don't live your life, instead your life lives you!
Chapter Excerpt: The Circle of Influence
Dr. Casey McNeal is an expert in behavioral psychology, psychological profiling, and personality style type. His humorous, one-of-a- kind style has made him an internationally sought-after speaker, author, and celebrity life coach.
Known as "The People Expert," he has helped thousands worldwide achieve their personal best through public appearances, personal coaching, and numerous award-winning books and multi-media development programs, including his bestselling audio book, Building Relationships: How to Work With People. Combining his notable background in stand-up comedy with his unique approach to self-development, Casey's style is both enlightening and hilarious. In addition to his popular blogging, he has been featured regularly on television and radio, including National Public Radio, the NBC Nightly News, and The Tonight Show with Jay Leno. Casey is the founder of BrainBuilt Development Group, a Massachusetts firm that provides consulting services for individuals and businesses through workshops, instructional design and development, and personal and business coaching. His notable and diverse client list includes NASA, FedEx, Reebok, the U.S. House of Representatives and Department of Justice, Estee Lauder, Verizon Wireless, and 20th Century Fox, among others.
When not on the road inspiring others to laugh, love, live and learn, he resides in the Boston area with his wife and family.
---
Edie Raether
When opportunity knocks, do you open the door ― or complain about the noise? Opportunity is often a matter of perception. Within our vision of the world is the image of ourselves. It may seem like some people have all the luck; they are randomly chosen. Yet, often luck is not random at all, but a time when preparation and opportunity come together...
Chapter Excerpt: When Opportunity Knocks
Edie Raether, MS, CSP, is an international speaker, trainer, and best-selling author who promises to challenge the way you think, and change the way you do business. Her six books have been translated into numerous languages and include: Why Cats Don't Bark, Winning!, Sex for the Soul, Forget Selling, What Most Builders Won't Tell Women (or Men), and I Believe I Can Fly (a character-building program for children). She has also co-authored ten anthologies, and is an expert resource for hundreds of publications such as The Wall Street Journal, USA Today, the New York Times, INC, and Reuters.
With thirty-five years of coaching experience in behavioral psychology and change, Edie has also been a college professor and talk show host with ABC. She is a certified speaking professional. The CSP is the highest earned designation awarded by the National Speakers Association to fewer than 8 percent of its membership worldwide.
---
Elle Swan
There were warning signs all along my fall into darkness. Like most people, I looked the other way. One of the first signs was the fact that I always made sure I had alcohol in my house. It was as necessary as toothpaste, paper towels, or laundry detergent. And the best part was I, like most people, could purchase all of my "necessities" from the same store. This was a very convenient way to lose control without ever noticing. Yet, losing control was the best thing that could have ever happened to me. It expedited my demise and prevented me from dragging my self-destructive behavior into this decade...
Chapter Excerpt: The Best of You
You will never be comfortable with your daily excuses after working with Elle Swan. She is a Vibrant Living Expert who transcended the darkness that destroys most people…forever.
At her lowest moment in life, she was overweight, addicted to alcohol, homeless, and left for dead.
Elle's remarkable journey from depression and deprivation, to vibrancy and abundance, ignited a passion inside her that illuminates the lives of all who cross her path. She is a master at identifying and transforming self-defeating habits. You can overcome them! Elle Swan will show you how. As an author, speaker and coach, she reveals her cutting-edge methods for Vibrant Living in a variety of health, image, and wellness products and services.
---
Ginette Osier Bedsaul
Where was the beauty and the peace in me? Everything felt like war. Over the course of the next two years we had to let go of our home. Our life savings and retirement savings were gone. My time was spent in appointments with doctors, physical therapists and lawyers. I could not work and was in tremendous pain. My husband worked day and night taking care of me, Michael, handling the household chores and working to pay the bills. All the things we had built financially for twenty years together had disappeared. I felt quite lost and abandoned by many, and especially God...
Chapter Excerpt: An Enacted Miracle
Ginette has held leadership, training, and coaching positions with an international non-profit organization, worked for several Fortune 500 companies and successfully created and managed her own award-winning entrepreneurial business for the past two decades.
Ginette has been a senior faculty member and senior counselor with the Training in Power Academy for over a decade. She is a senior minister with the Power of Spirit Church. Her work focuses on wellness, healing, meditation, and assisting others to the path of self-awareness.
Her interests are in vibration and transpersonal psychology, spiritual transformation, life potentiality, and the feminine face of God. She holds a bachelor's degree from the University of Nevada, Las Vegas and is pursuing her master's degree in psychology. Ginette presently lives in Las Vegas, Nevada in the richness of a three-generational household.
---
Jennifer Joseph
Instead of achieving "normal," I was learning to love my quirks and differences, and my life was becoming better and better. I was learning to embrace the feeling of being a stranger in the world. I was learning to be an observer experiencing life rather than being attached to it. I was learning to love where I came from and live life to its fullest, to understand we're all one and on the same path to ultimate inner peace and happiness. I was learning forgiveness and understanding for myself and others. That released the chains of resentment and bitterness that were holding me and allowed me to have more love, compassion, and understanding of people. Even though I treasure my talent as a singer, I treasure these gifts of love, understanding, and compassion more...
Chapter Excerpt: Follow Your Heart
At nineteen, Jennifer Joseph arrived on the world famous stages of her hometown, Las Vegas, performing with a popular lounge band. After winning the title of Miss Nevada 1995 and receiving the talent award at Miss America, she went on to headline many shows around the world, including Legends in Concert, Follies Bergere, and her self-titled one-woman show. Jennifer received the rarely given standing ovation on Showtime at the famous Apollo Theatre in Harlem, New York. She has also worked with Wayne Newton and opened for the legendary Don Rickles for almost two years. Until July 2010, you can find her starring in the high energy "Show in the Sky" at the Rio Hotel and Casino in Las Vegas, where Jennifer still calls home. Miss Joseph is very involved in many philanthropic organizations in the community as well as in helping young women achieve their personal goals in the Miss America pageant system(s).
---
Jennifer Tarlin
I have been severely overweight my entire life. As an adult, doctors categorized me as morbidly obese, defined as being one hundred or more pounds overweight. Since early childhood, I have been on multiple diets. I tried everything, but was not successful in losing weight. Each year I grew heavier, I became more hopeless. Eventually my body began to break down from years of obesity, and I developed serious health problems, such as type II diabetes. I was hoping I would be able to lose this weight on my own…
Chapter Excerpt: A New Life
Jennifer Tarlin is originally from the Boston area and has resided in Las Vegas for four years. She is a freelance writer, who has enjoyed writing since she was a child, writing her first story at the age of eight. She holds a B.A. in Journalism from the University of Massachusetts, Amherst.
After a lifetime of struggling with weight, she underwent gastric bypass surgery in October 2008, which has been a life-changing event. She would also like to embark on motivational speaking to bariatric patients in order to share her story to help others. A lifelong animal lover, she lives with her two precious cats, Tiffany and Margarita. She would like to dedicate this article to her beloved parents, Sheila and Harris Tarlin. Without their love and support, she would not be where she is today.
---
Jesse Ferrell
If you have never been fired, you are missing out on one of life's universal defining moments that has the potential to set great transformation and growth into motion. It can also be a devastating blow that serves up the dreaded crippling sucker-punch from your blind spot. Your attitude and how you respond to this defining moment will determine which paradigm becomes your reality...
Chapter Excerpt: Defining Moment: You Are Fired
Jesse Ferrell coaches and energizes professionals, corporate executives, and senior executives on how to get organized, stop procrastinating, and take charge of their personal and professional endeavors. He has amassed more than 54, 540 hours sharing his domestic and international professional speaking, executive corporate training, life coaching, and development programs.
Jesse attended the University of Nevada at Las Vegas on multiple academic scholarships, where he earned a Bachelor of Fine Arts Degree and a second Bachelor of Science degree in Hotel Administration. He worked in the hospitality industry for thirty years and spent six years as an adjunct professor at the University of Nevada at Las Vegas.
Jesse is a recognized published author of multiple articles and books and his personal mission is to make a difference in the world by helping others transform their lives via his national and international coaching programs and speaking platforms. His company makes healthy contributions to foundations in the Dominican Republic and Louis Gossett, Jr.'s ERACISM foundation. His unique life purpose is to champion powerful communication in order to embrace his chosen responsibility of leadership in the role of 'difference maker,' where the magic of transformational growth is shared!
---
Judi Moreo
We were late arriving in Sun City and had missed most of the show. We made our way into the showroom in our traveling clothes, just in time to see Julio sing his last song. Marty was very upset. The tickets had cost her a lot of money and she had really wanted to see Julio's show. Not knowing who he was, but being from Las Vegas, I said I was sure that we'd be able to go backstage and meet him. So we marched up to Stage Door 4 where a group of ladies were screaming and jumping up and down. I walked right to the front of the crowd with Marty in tow, presented my Las Vegas modeling agency business card to the security guard, and said, "Please tell Julio that I'm here."
Chapter Excerpt: The Choice That Changed My Life Forever
Judi Moreo is the author of You Are More Than Enough: Every Woman's Guide to Purpose, Passion, and Power, and it's companion, Achievement Journal.
She is an award-winning businesswoman and motivational speaker. Her superb talent for customizing programs to meet organizational needs has gained her a prestigious following around the world. Her passion for living an extraordinary life is mirrored in her zeal for helping others realize their potential and achieve their goals. With her dynamic personality and style, she is an unforgettable speaker, inspiring motivator, and an exceptional life coach.
---
Karen Phillips
Great! Here I was by myself in this hospital room and I had no idea what to ask the neurologist. I felt like I needed to ask something intelligent at this point. Then I remembered watching Days of our Lives on television. Yep! I asked the only "intelligent" question I could think of … the one I had heard them ask on the show. "If it's a tumor … is it operable?"
Chapter Excerpt: 7 Keys 2 Success
After thirty years in the area of education, Karen Phillips has created a new life-story where she is now recognized as a keynote speaker and Christian leadership coach. She inspires her audiences to be empowered despite the challenges they may face.
Karen's educational career was in health and physical education, where she was honored through the National Teacher of the Year Program and then moved into educational administration. She is a member of the Citizens Advisory Board for the Nevada Chapter of Multiple Sclerosis and serves in a leadership role of an internationally-based women's Bible study group.
Karen married her husband, Eddie, in 1976 and together they have raised two children and have been blessed with six grandchildren. They reside in Henderson, Nevada—a suburb of Las Vegas—and enjoy family time, outdoor activities, and relaxing at their cabin in Utah with their two dogs, Bridgette and Gigi.
---
Mary Monaghan
My life had fallen apart in front of my eyes. Our beautiful home with swimming pool and guest cottages was repossessed and I moved to a tumbledown house with rotting floorboards and broken windows with no money to fix it up. I had barely enough money to buy food, surviving on cheese and crackers. Things could not get any worse, or so I thought. I was wrong; it could definitely get worse...
Chapter Excerpt: New Beginnings
Mary Monaghan is the author of Remember Me?, a story of survival and new beginnings, now also adapted into a screenplay. She was a contributor to Writing the Self, an anthology of women's writing and is currently busy with her second book, Who do you belong to? due for publication in 2010.
She lives in Cape Town, South Africa and travels frequently to Europe and the United States. As well as being a successful writer, she is a speaker and also facilitates change and leadership development interventions. She has a passion for helping people develop themselves to be the very best they can be.
---
Nancy Todd
I'm an intelligent person, with rights, and a caring mother ― and I don't believe in "no choice." I had read and learned all that I possibly could about leukemia, and my questions were on point, but the doctors had no answers, just the same protocol, no matter what effect or circumstances. Nor did the doctor look my child in the eye as he talked over him to a woman, who his tone indicated, would realize her place and unquestioningly follow his direction. He was incensed that I would question his judgment...
Chapter Excerpt: Playing the Hand You're Dealt
Nancy Todd is a political consultant and president of Nancy Todd, Inc., an international strategic consulting firm based in Las Vegas, Nevada.
Todd cut her political teeth in Louisiana and since 1979 she has been a consultant to over 196 campaigns in forty-two states and six countries, with a winning record of 98 percent.
Treasurer of the board of directors of the International Association of Political Consultants and now past president and chairman of the American Association of Political Consultants, Todd was inducted into the prestigious Hall of Fame of the AAPC in March 2008, the first woman to be so honored. Her articles and commentary have appeared nationally in newspapers and professional publications.
She is a frequent speaker both nationally and internationally for governments, heads of state, key leaders in emerging democracies, and major universities including Harvard, the John F. Kennedy School of Government, George Washington University, Georgetown University, and Vanderbilt University.
---
Rev. Cattel
We always have choices. Do we imprison ourselves, creating shackles around our heart, mind, or bodies? What we do with our choices can lead to freedom or imprisonments. Whether we are speaking of political freedoms, attitudinal freedoms, physical freedoms, or most importantly our spiritual freedoms, each time I give out a penny, or pay with any Lincoln money, I send a silent prayer and intention...
Chapter Excerpt: The Mystical Hand of Freedom
Reverend Cattel has been involved in the field of metaphysics since she was a child, learning hypnosis about thirty years ago and practicing it for many years, in many different ways. Learning how to help people find their destiny and spiritual purpose while doing regression has been one of the most rewarding facets for her.
She currently is a full-time licensed psychic, astrologer, and hypnotherapist in Las Vegas, Nevada. She has a weekly radio show on All Talk Radio about spirituality, metaphysics, healing, and even hypnosis, called Cattel's Stardate 2100 Show.
She has an honorary doctorate of Divinity and has been a pastor of the Beacon of Light Spiritualist Church in Las Vegas, Nevada. Cattel has a foster Cambodian son, is single, and lives with one foster kitty named Dagney.
She has a radio show called THE Stardate 2100 Show on www.AllTalkRadio.net every Friday at 12:06 PM Pacific Time. You can also tune into the archives 24/7. She specializes in shows on positive thinking, spirituality and alternative healing.
---
I am often asked the secret to our marriage. It's no secret that good friends like to laugh, companions like to talk, and lovers like to love. It is helpful if you choose to smile, if you choose to listen, and if you choose to remember the good times, and not the hard times, when he reaches for you. Indeed, if you choose to remind yourself how lucky you are he still reaches...
Chapter Excerpt: A True Love Story
Born in Kansas City, Sandra is a baby boomer who escaped the Plains on a one way ticket to Iceland to explore the world while her friends were partying at college. She returned to the United States after twenty five years in Europe, Africa, Central America, and the Middle East, with an art degree and speaking five languages. Life-phase three included a daughter and son, a successful scientific company, a stint as elected official and planning commissioner, a beach house in California, and always, a loving and supportive husband. The latest era began in Las Vegas with the creation of www.sandraoff thestrip.com, a magazine blog dedicated to the adventures of an eclectic mind. Just finishing her first book, Sex and the Zen of Shopping.
---
Sandy Kastel
Walking across the hall to the family room, I sunk into the big sofa against the window. A feeling that everything was going to be alright came over me as I soaked up the warmth from the sun's last rays, closed my eyes, and let my thoughts drift back to another time when a young woman made a decision that would change her life and mine forever...
Chapter Excerpt: Detours
Sandy Kastel knows all about the impact of life choices. A singer and Miss Nevada title-holder in the Miss America Pageant, her life has been a series of detours, taking her on an incredible journey leading up to a career as an artist, clothing designer, singer, songwriter, publisher, producer, and playwright.
A recording artist, Sandy has released two CDs and is preparing for her third, which will include her original songs. This Time Around, a tribute to the American Songbook and the performers who made the songs famous, hit the radio stations in 2007. Only In Las Vegas, a collection of songs from her television special, The Event, aired nationally. She has two upcoming books slated for 2010. Detours talks of choices made in her life and the self-help methods available to all of us when making life transitions. In Miss America: What It Takes to Win the Crown, Sandy shares her journey to the Miss America pageant, the women she met, the volunteers who donated their time to the organization, and the tools to help young women in the pursuit of their dreams. Sandy is a member of the National Association of Songwriters, the Recording Academy, and BMI. She provides her talents and continues to support the work of numerous charities: Jerry Lewis Telethon, Children's Miracle Network, Disabled Veterans, Safe Nest, Policemen, Firefighters, Public Broadcasting and Public Radio, National Hot Rod Association's DRAW, Save the Wild Horses, and the Omni-Equus Foundation.
---
Sherial Bratcher
I had to sleep on a pull-out couch with my two brothers. We hardly had anything to eat and life became even harder, because my mother had three more children. Moving there simply continued the nightmare I had already been living. I had no friends because we moved around so much, I was embarrassed because my clothing was so ragged, and I had a lot of health issues because of the lack of food.
One very clear memory was a time when I went to a new school, I was given a pencil. It was so special to me because it was one of the few gifts I ever received and it was brand new. I really treasured that pencil ... it had an eraser that had never been used...
Chapter Excerpt: Creating My Dream Life
Sherial Bratcher has a passion for bringing people together and is founder and CEO of Diamond Star Networking Events and www.PerfectMatchBySherial.com, both located in Las Vegas.
Sherial is a contributing writer to www.vegascommunityonline.org and www.tradeshowlifestyles.com. In 2007 and 2008, she hosted a local radio program. She has represented nationally known speakers and authors from around the world. Equipped with heart, intuition, and business savvy, Sherial is one of Las Vegas' premiere philanthropists, hosting many charity galas. She has owned several businesses, held government contracts in excess of $2 million, and developed supported-employment programs for the disabled.
Sherial utilizes both her personal and professional experience to help people live their dreams in every area of life and make the shift from the ordinary to the extraordinary. She is an innovative businesswoman who brings a fresh, compassionate approach to business and social networking. Sherial believes in "The Law of Attraction" and practices it each and every day. This not only helps her daily life, but also creates an inspirational atmosphere for everyone around her.
---
Stephen Philpott
During this time, I caught the manager and a couple of the other branch employees embezzling from the company. They were terminated and I became the manager. I proceeded to work all hours trying to figure out what was going on in the financial side of things and what we really did as a company. I started sleeping in the recliner in my father's old office. This went on for about six months. Everything finally came to a head; was I going to run this part of the business or sell it and go to college?
Chapter Excerpt: Life of Success on My Own Terms
Stephen A. Philpott was born in Marysville, California in 1952. He moved with his family to Las Vegas, Nevada in 1959. He completed his high school education in 1971 and entered the family business. Because of the illness and ultimately the death of his father in January 1973, he became the president of the Bearing Belt Chain Company, turning the business around and transforming it into a market leader in the region. He sold the business and retired in December 2009. He is currently involved in consulting in logistics and technology adoption, and enjoys being involved with the FIRST robotics program in the K-12 environment. Stephen travels extensively with his wife and continues his pursuit of fine wine and food.
---
Susan Haller
I drove up the road and into the heart of downtown Seattle, wondering just how to find a shelter to go into. My daughter, seeing folks laughing on the street corner said, "People are laughing, Mom. I didn't know people laughed in the city; I thought everybody just hurt each other." My son's observation about "life on the outside" was the number of signs telling people what to do and when to do it. "No Parking, No Stopping, No Walking." A telling statement to the neurosis we had just abandoned. The lady at the "cheap" motel looked at us, our car full of stuff, and our eyes tired, and gave us an incredible deal on the room. I got out the phone book and started to make calls...
Chapter Excerpt: Life Forced
Susan Haller has over a decade of experience in fundraising and the development, marketing, and in-person sales of a wide range of creative products. Her successes have included entertainment, music, special event production, fashion, toys, fine art, and numerous advertising media including print, outdoor, on-line, and television.
Susan is a proven business manager with leadership, marketing, sales, and office operations experience in industries as diverse as retail, hospitality, live theater, travel, television production, gaming, and even high technology.
Susan has composed over two hundred original songs, four stage musicals, six children's books, thirteen network TV commercials, and countless voiceover scripts, advertisements, and media releases. She is an accomplished performer, having starred in numerous children's shows, live stage productions, and cabaret musical events, as well as in radio and TV commercials in the Seattle and Las Vegas media markets.
---
Victoria Lane
I've always been involved in raising funds for breast cancer research. Both my aunt and younger cousin have lost their breasts to the disease, so I wanted to help in whatever way I could. Every fundraiser I saw for "the cause" I could be counted on to support. I knew there was a possibility that genetics might mean I needed to be careful, but I never really worried. I felt like I helped "the cause" so I was safe. I should have paid more attention to what the message was behind "the cause," instead of just raising money for them.
"Yes, it's cancer." I heard those words come over the telephone on August 28, 2006...
Chapter Excerpt: Yes, It's Cancer
Victoria (Vickie) Lane is an executive assistant to the Chief Medical Officer of a large health system in Florida where she has worked for the past eleven years. Vickie has been married to Roger for over twenty-eight years and together they have two wonderful sons, Randy and Ryan, along with the women in their lives who are like daughters to her. With her family's loyal support, she was able to earn her associates degree in 2002. In 2004, she received her Certified Professional Secretary (CPS) certification, then continued on in 2005 to achieve her Certified Administrative Professional (CAP) certification.
On August 28, 2006, Vickie was diagnosed with breast cancer and although thankfully she is now cancer free, she continues to be an advocate for early detection and continues to show her support by helping to raise funds needed for research to hopefully put an end to the disease. Among the numerous fundraising activities she actively participates in, Vickie, along with three other teammates, is on a team to participate in the sixty-mile Three-Day Walk to end breast cancer (www.the3day.org).
Editors Note: Vickie is one of eight people who will be carrying a flag representing cancer survivors in the opening and closing ceremonies at this year's Breast Cancer 3-Day event.
---